A month and a few days from now Amsterdam will become the center of the video and TV world, when thousands of exhibitors and tens of thousands of attendees descend on the Dutch capital to talk about the past, present and future of the industry. Meet up with us during IBC 2018 to learn about the exciting new ways in which we're helping operators and broadcasters fundamentally change the economics of their video delivery operations. Read on to find out what we have in store for this year's IBC.
---
---
---
We're doing exciting things for operators. Meet us at IBC 2018 and learn more
As the system integrator specialized in video delivery technology, our expertise is second to none. As such, we'd love the opportunity to talk to you about upcoming video delivery technology projects, challenges and solutions. There's more, though. There's a growing need for techniques like real-time event stream processing and the insights needed to enhance end-user quality of experience, increase efficiencies and improve operational economics. Our answer is our Operational Intelligence Platform for Video and TV and we'd love to tell you all about it at IBC.
Use the form below, mail marketing@divitel.com or reach out to your Divitel contact to set up a meeting at one of our dedicated on-site meeting rooms at IBC 2018.
---
Attend our closed-door, one-hour AI workshop
Are you a (TV) operator or broadcaster that would like know more about AI voor video and its opportunities for your business? Are you attending IBC 2018 in Amsterdam? We're hosting closed-door, one-hour AI workshops that dive into how AI is impacting our industry and how you could benefit. Let Divitel and NVIDIA experts provide you with actionable insights related to the AI-revolution shaking our industry to its core. Read more about the workshop and how to sign up for one at our Practical AI for TV and Video Today: An IBC 2018 Workshop page.
---
The fifth – and 2018's final – edition of the Video Delivery Landscape
If you're involved in video delivery technology in any shape or form, you know about the Video Delivery Landscape. What started out as an internal tool to illustrate an increasingly complex vendor ecosystem, has turned into a phenomenon that has found it's way to tens of thousands of video and TV professionals. At this years IBC, we will release the fifth – and 2018's final – edition of the Video Delivery Landscape. Leave your email address on our Video Delivery Landscape page and you'll receive a digital copy of the poster when it launches, on September 14th. If you're attending IBC 2018, visit our floor in the Elicium (Hall 13, 3rd floor) for an A1 print copy of the Video Delivery Landscape 2018 – IBC edition.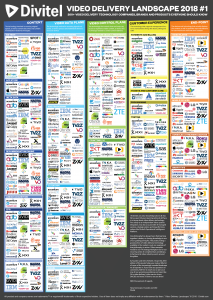 Let's schedule a meeting!
Leave a message and we'll contact you within 24 hours