Artificial Intelligence is significantly impacting most industries, and ours is no exception. Read up on the 5 Ways AI is Changing Video and Television in 2018.
Our most popular blog post last year, by far, was '5 Ways AI is Changing Video and TV Today'. So, we've decided to update it for 2018.
This year's updates:
---
5 Ways AI is Changing Video and TV in 2018 from Marianne van der Craats
Google Assistant
Perhaps the most widely covered application of artificial intelligence in video and TV today is Google Assistant. Available on Android TVs, as well as loads of other devices, Google Assistant lets you use voice commands to play your favourite shows, get answers to all kinds of questions, and control your home.
You can use it to check the weather, for example, with voice commands like "show me the weather" and "will it rain tomorrow". And if you've connected participating smart devices in your home, you can command Google Assistant to "dim the lights" or to "turn the temperature up".
With Google Assistant you can now ditch your remote and use voice commands to "Play Back to the Future on Netflix", "Pause", "Rewind", and "Turn up the volume". Pretty cool. But whether your remote is really destined to become a thing of the past, remains to be seen.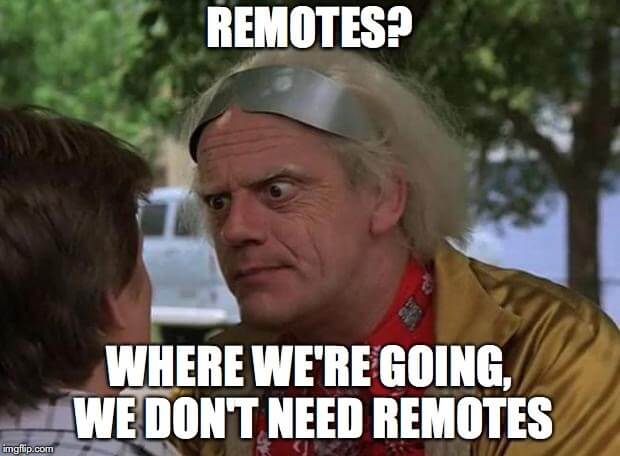 Where it gets more interesting, and perhaps actually useful, is when we use Google Assistant to help us look for content. So instead of being limited to Netflix's or Hulu's own recommendation engines (more on that in our previous post), we can ask Google to "show me more TV shows starring Elisabeth Moss", resulting in a full list of TV shows, not just those on Netflix, for example (the obvious omission, in this case, is The Handmaid's Tale).

Real-Time Scene and Video Recognition Technology
Going much further than Google, Hisense unveiled its new generation Artificial Intelligence (AI) television system- "VIDAA-AI", in Beijing this year.
Hisense has teamed up with Yi+, a Chinese artificial intelligence start-up specialised in developing machine vision technology for content marketing. Yes, you read that right. Not only do they offer an AI assistant, much like Google Assistant, but they've come up with an intelligent advertising platform based on real-time object recognition!
What's really impressive about the system, is that it can automatically find specific sections of video content based on a spoken description. And not only that, but it can generate short clips algorithmically. Perfect for cuing up your own custom sports highlights.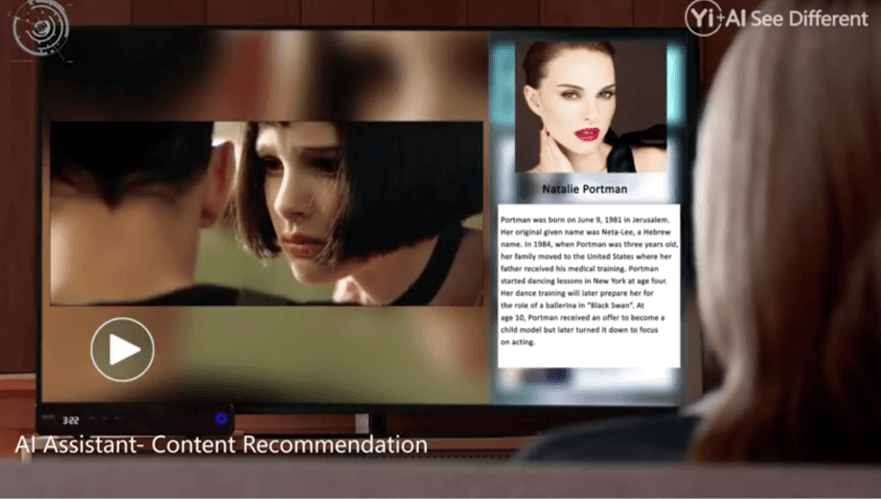 For example, you're watching your favourite TV show, and you think, 'that dress is cool. I'd like to have one like that'. But now you're already moved on to a different scene. So, you say "Show me the scene with Dolores's red dress", and the player takes you to that scene. But not only that; up pops the dress (or dresses like it) in augmented reality style, with purchasing information right there on the screen!
How? According to Yi+, the system analyses and identifies objects, actors, and scenes. Based on the scene category, relevant advertising space is allocated to the video, and appropriate advertising labels are applied. Advertisers can (for a price, of course) display products or services related to the labels.
It's unclear how this will work in practice – you wouldn't want to have ads popping up all over the screen while watching your favourite TV show, for example. But one can imagine free streaming services having the ads pop up, while paid services would show ads on demand only.
As an example of the system generating short clips automatically, imagine you're watching Formula 1 and your favourite F1 driver has made a thrilling come back from last place to a podium position. You could give the TV a spoken command like "show me all the overtaking manoeuvres for Max Verstappen", and voila, the TV plays your very own sports highlights, focused just on the driver you asked for.

Using AI to Animate New Flinstones Cartoons
What do you get when you feed an AI 25.000 clips from classic Hanna-Barbera cartoon The Flinstones? A way to animate any random Flinstones scene you can come up with, simply by providing a text description:
Researchers from the University of Washington, the University of Illinois Urbana-Champaign and the Allen Institute for Artificial Intelligence made all our wildest dreams come true by training an AI to create new episodes of the classic cartoon.
Ever wondered what a scene would look like where "Fred wearing a red hat is walking in the living room" or "Betty and Wilma have a conversation in the living room. They take turns conversing with each other while they are seated on the couch"? Tell this AI model and it'll produce you an (admittedly glitchy) clip showing you (almost) exactly what you asked for.
The system was trained on a set containing only clips of about 3 seconds or 75 frames long. If you've watched the video above, you'll see that the produced clip won't fool anyone in thinking they're watching a new episode. It is obvious that it 'understands' what's being asked, though.
With time, training and processing power, this could lead to a future where a new episode of The Simpsons is fully AI-animated simply by telling it that "Homer does something foolish. Marge gets angry, but forgives him". Actually, that might be how they do it right now…

Increasing Picture Quality with AI
We're seeing loads of announcements for new 8K TVs. But, there's a distinct lack of 8K content available. Samsung is solving this problem by using AI and machine learning to upscale all video, regardless of the original quality or method of transmission, to 8K quality. The new technology was revealed at CES 2018 in Las Vegas, on Samsung's 85-inch 8K QLED TV.
The TV comes with a database having analysed millions of images in advance. On receiving a low-quality image (SD, FHD, UHD/4K), the TV selects the optimal filter, and the low-res video is converted to high-quality, utilising detail creation, noise reduction and edge restoration.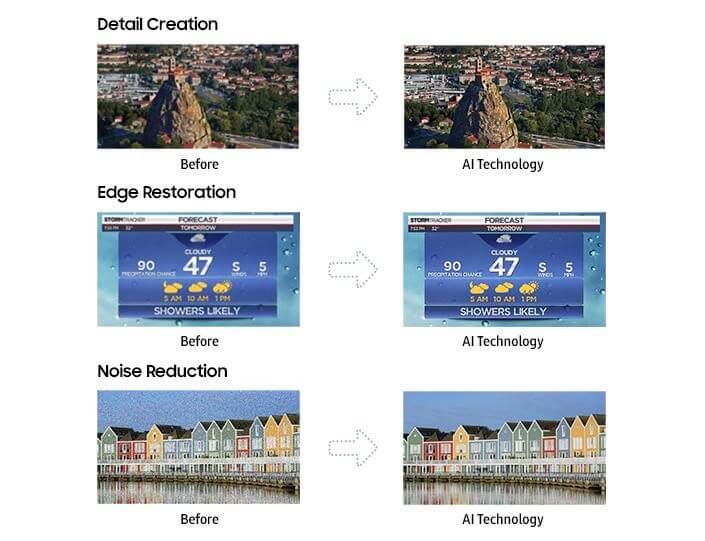 The technology can offer natural images in high resolution, without compromising gradation in the picture, by increasing image processing 64 times. The new TV produces pictures with richer and more detailed contrast (rendering text edges sharp for example) by categorising elements of picture quality, such as black, blooming and brightness.
And it's not just the images that are benefiting from AI. The TV's sound is being optimised automatically on-the-fly, without having to change any user settings. When viewing a football game, for example, the crowd cheering is amplified to enhance the excitement of the match for the viewer. Or when viewing a concert, for instance, the low-frequency audio is boosted to help deliver a more authentic concert experience.
Given that 8K is, for a lot of people, beyond their visual acuity, never mind the difficulty in transmitting and storing the videos, the debate is still on whether or not 8K is even viable. Regardless, they'll certainly appeal to those who want the biggest, 'bestest', newest and smartest TV.
Samsung says they'll be shipping their new 8K TVs this year.

AI Powered Situational Awareness for Video Delivery
AI can be used to automatically recognise quality degradations, platform anomalies and other video delivery situations that require attention.
This is how Divitel is applying AI in Video and TV – with  our Operational Intelligence Platform for Video and TV. The idea is that you'll be alerted to any problems before they turn into critical issues, giving you the time to react before they do turn critical.
It offers real-time end-to-end event stream processing for video delivery, from ingestion, all the way up to the end-user device or application.
By employing pattern detection, advanced analytics, intelligent alerting and response management, you can augment your scattered monitoring tools with intuitive, useful dashboards and alerts that add context, as well as causes and resolutions, ensuring a swift response, speeding up decision making, and assisting you to make those critical decisions at the same time.
Custom integrations allow these same insights to inform fully automated customer care chatbots, as well as tooling to greatly speed up first line support resolution time.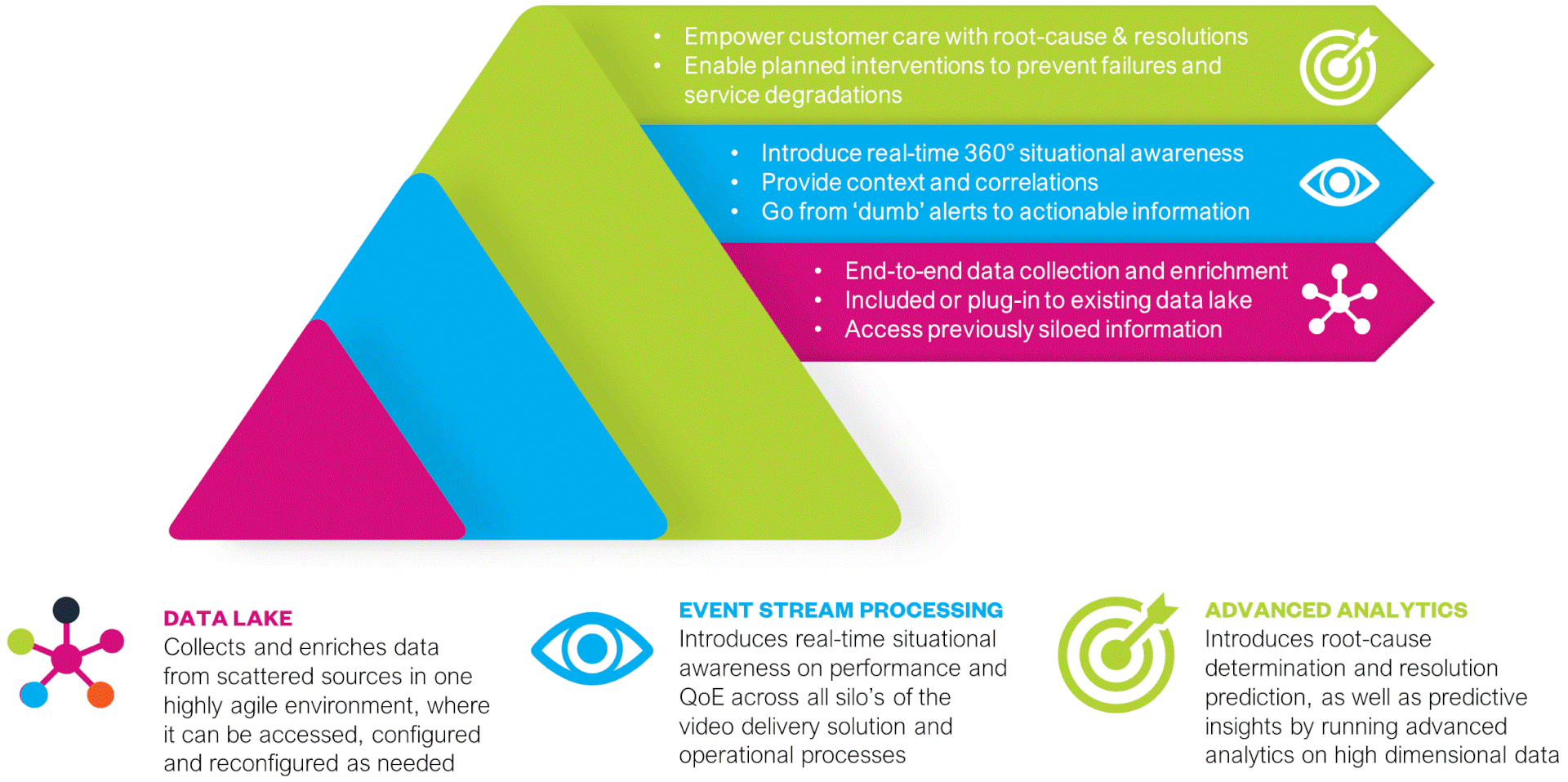 Want to discuss how Divitel's Operational Intelligence Platform can introduce operational efficiencies and increase customer satisfaction? Send an email to marketing@divitel.com or fill out the form on this page. We'll get back to you within 24 hours to provide you with additional information or we'll happily schedule a call to discuss your specific challenges.