Google's yearly I/O developers conference is in full swing at the Shoreline Amphitheatre in Mountain View. Even though Duplex undeniable stole the show, at Divitel we were eagerly waiting for Sascha Prueter and Benjamin Baxter to take the stage and tell us "What's new with Android TV" and specifically, what we can expect from Android P for Android TV. Here's what we learned.
---
Our key take-aways
1. Current Android TV N and Oreo adoption
Android TV is growing. If you haven't spent the last year living under a rock, you were probably aware, but the following graph illustrates the progression quite nicely: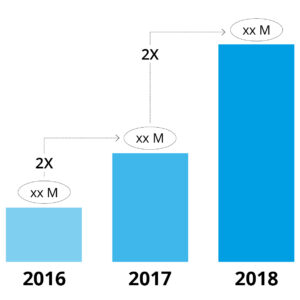 In addition to adoption of Android TV by consumers, the partner ecosystem is growing rapidly with Google announcing over 100 partners actively involved with Android TV at this time. This is especially clear in the operator segment, with roughly 30 deployments worldwide and 50+ more to come in the very near future.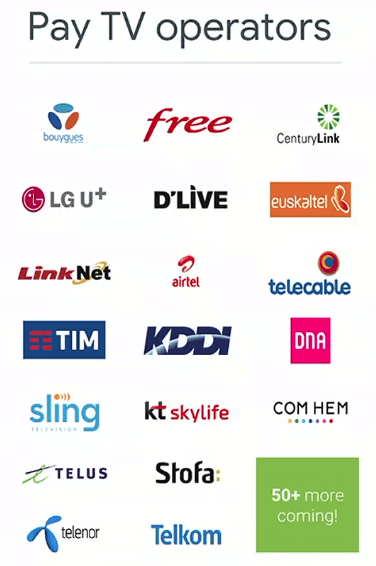 Additionally, there are now close to 4.000 Android TV optimized apps, including games, video services and more. All of this shows clearly that Android TV is no new Google TV. Both Google and the wider ecosystem of developers, device manufacturers and operators are heavily invested in making Android TV a success. Judging by the numbers, it's well on its way to become the leading operating system for digital media players.
2. Direct Carrier Billing (DCB) for Android TV
Direct carrier billing for Google's Play Store has been around for a good while now, allowing mobile Android end-users to make purchases in Google Play, Google Movies and more, charged directly to a user's prepaid phone credits or their monthly bill. Since last year's Google I/O, direct carrier billing (DCB) is also available for Android TV. This offers end-users the same easy way to pay for their Google Play purchases, but charges them to monthly cable or pay-TV bill.
Especially in countries where credit-card use isn't common, direct carrier billing is a popular and effective alternative. Offering it to end-users has a measurable impact on the amount of Google Play purchases that take place. Even though this isn't an operator revenue driver, for operators that offer Android TV powered set-top boxes, stimulating Google Play purchases increases retention and engagement: Your end-user is less likely to switch to the competition if they've bought apps, games, items or movies that 'live' within your Android TV environment.
3. Google Assistant on Android TV
Like DCB, Google Assistant for Android TV has been available (in the US) for a while now. The functionality offered is continuously developing, though, further adding to the value an Android TV powered media player brings end-users. During the "What's new with Android TV" talk at Google I/O 2018, two main benefits were highlighted: Google Assistant's ability to discover and navigate video content and Assistant's ability to increase engagement by offering rich experiences. Expect functionality to keep evolving along these two axes. Especially relevant seem developments of the supported connected home ecosystem, allowing end-users increasing control of IoT connected devices through Android TV.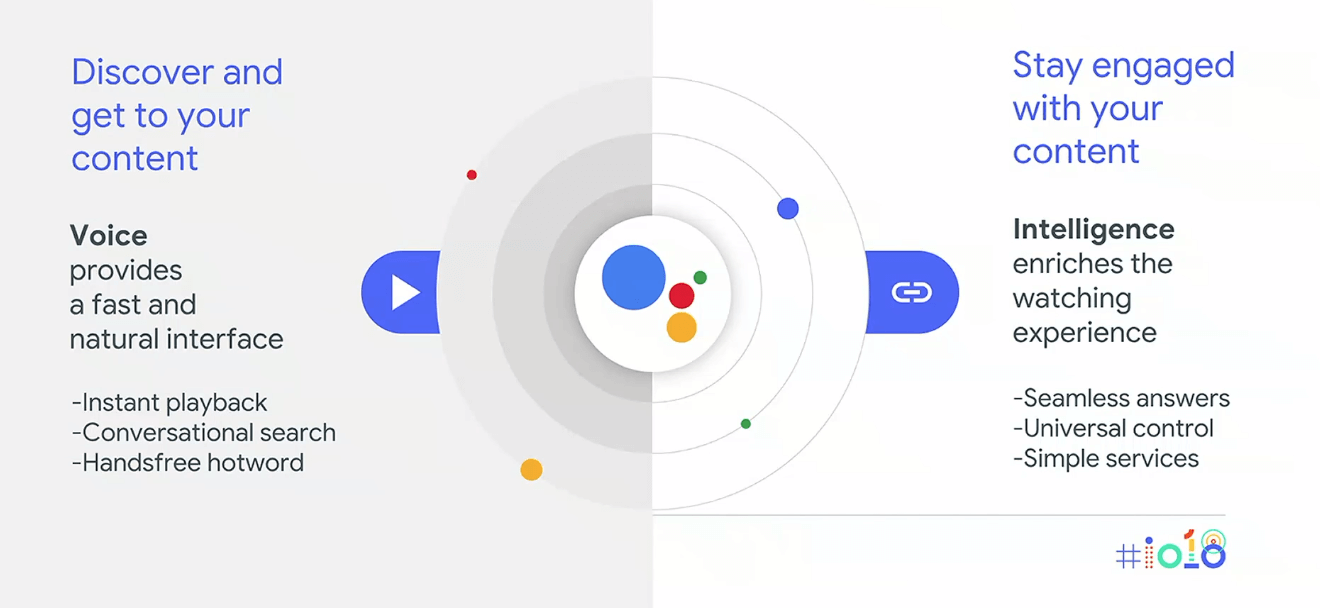 Importantly for non-US operators and other ecosystem partners is Assistant's international roll-out on Android TV. In 2018, local-language versions of Google Assistant on TV will be available in the UK, France, Germany, Korea, Japan, Canada, Italy, Australia, Mexico, the Netherlands, Spain and more. Additionally, in-non Assistant countries, voice search will go through some massive improvements.
4. Android TV Oreo and Content First Design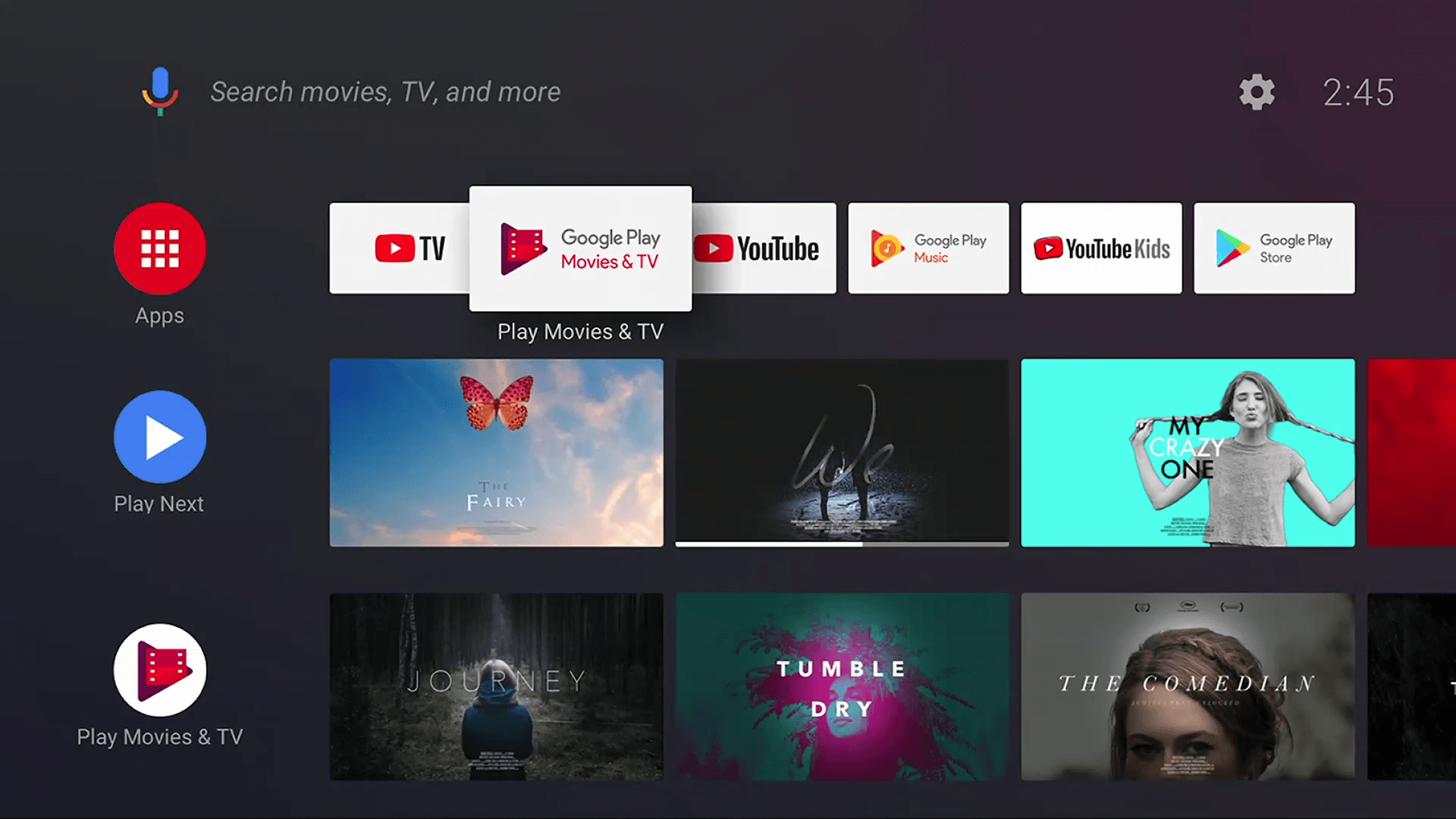 A good amount of time during Android TV's update at Google I/O was spent explaining Android Oreo's changes to the home-screen and the ways in which content providers could or should integrate its new functionality. As discussed in our (now hopelessly outdated) dive into Android TV Oreo, its promise of a 'content first' end-user experience depends heavily on video content application developers integrating the necessary features and functionality. As Android TV deployments seem to struggle with Android's infamous issues with timely OS updates, the incentive for content providers to actually integrate this functionality is still lacking. Now that more and more Oreo-powered hardware is hitting the shelves and some big partners have started updating their Nougat deployments, expect the number of content providers that integrate Oreo's Content First Design features to increase. A good development for the end-user, as an (Operator Tier) Android TV Oreo deployment with fully Oreo-compliant content apps presents a vastly superior user-experience and comes frightfully close to video consumption's holy grail of seamless universal search and navigation.
5. Android P on Android TV: Enabling low-end devices
Android P on Android TV seems to be mostly about evolution, not revolution: Polishing the user-experience and performance. One way to make this happen is by offering app developer's ways to tweak their applications for low-memory devices. Android will actually 'tell' the app that something is a 'isLowRamDevice()' enabling developers to do things like scale down (or disable) animations and more.
6. Android P on Android TV: Improved Setup process
In keeping with Android P on Android TV as a collection of tweaks and improvements, Android TV's setup process will become significantly faster and easier. Both for those with an Android mobile device, as well for those without, the entire process should take up to a third less time to complete than it does in its current Oreo iteration. One of the ways in which the user experience has improved, is through automated push notifications to nearby Android mobile devices.

Tapping on the notification allows the end-user to completely skip the previous steps of heading into the Google app and typing or saying "Ok Google, set up my device".
7. Android P on Android TV: Improved Play Auto Installs
Play Auto Installs are amazing and amazingly underutilized at the moment. As part of the new-user onboarding flow, Android TV can suggest users a list of apps from the Google Play store, that will be downloaded and installed after an end-user opt-in. Not only will a user be presented with apps they've installed on other Android TV devices, but also with apps they might have installed on their phone that have a corresponding Android TV app available.

Specifically for Operator Tier, Play Auto Installs offers operators the possibility to insert apps from their choosing into this flow. This allows your end-user to opt-in to installing, for example, your customer service app, apps from partners or apps from sub-brands.
8. Android P on Android TV: Autofill passwords and sign-in details
Even when using your Android-phone as an input device, logging in to apps and services on Android TV is clunky. A far cry from the experience on your mobile device, where Google will autofill passwords and login credentials to ensure frictionless, easy access to your services. At I/O, Google announced that this same functionality will come to Android P on Android TV, allowing end-users the same ease of use in a place where they – arguably – needed it more to begin with.
9. Improved settings and external camera support for Android P on Android TV
Alongside the previously mentioned improvements and changes, Google has introduced some intelligence to Android TV's settings UX. End-users will get context-aware suggestions when opening the settings, which should alleviate the need to navigate a series of menus as the most likely option will be highlighted from the get-go. Additionally, in a five-word sentence, a new functionality was introduced that could lead to some nifty new Android TV apps in the future: External camera support. Even though no further information was given, this sounds like it opens the door to advanced motion-controlled apps or games in the vein of Nintendo Wii, video calls or conferencing, as well as remote eHealth initiatives. (on this last subject, Divitel actually has a pretty interesting patent that's worth checking out).
10. Google Assistant and Android TV integrated sound-bars
Google and JBL presented the first of, what is likely to be, a new hardware category combining smart speakers, a soundbar and a digital media player all in one. A pretty natural progression, all be it one whose appeal be limited by the sizeable install-base of TV's and STB's that already come with Android TV built in.
11. Android TV ADT-2 Developer Device
Remember the rumours surrounding a Google-branded 4K Android TV dongle from a while back? Turns out, they're true, but unless you're a developer, you can't have one.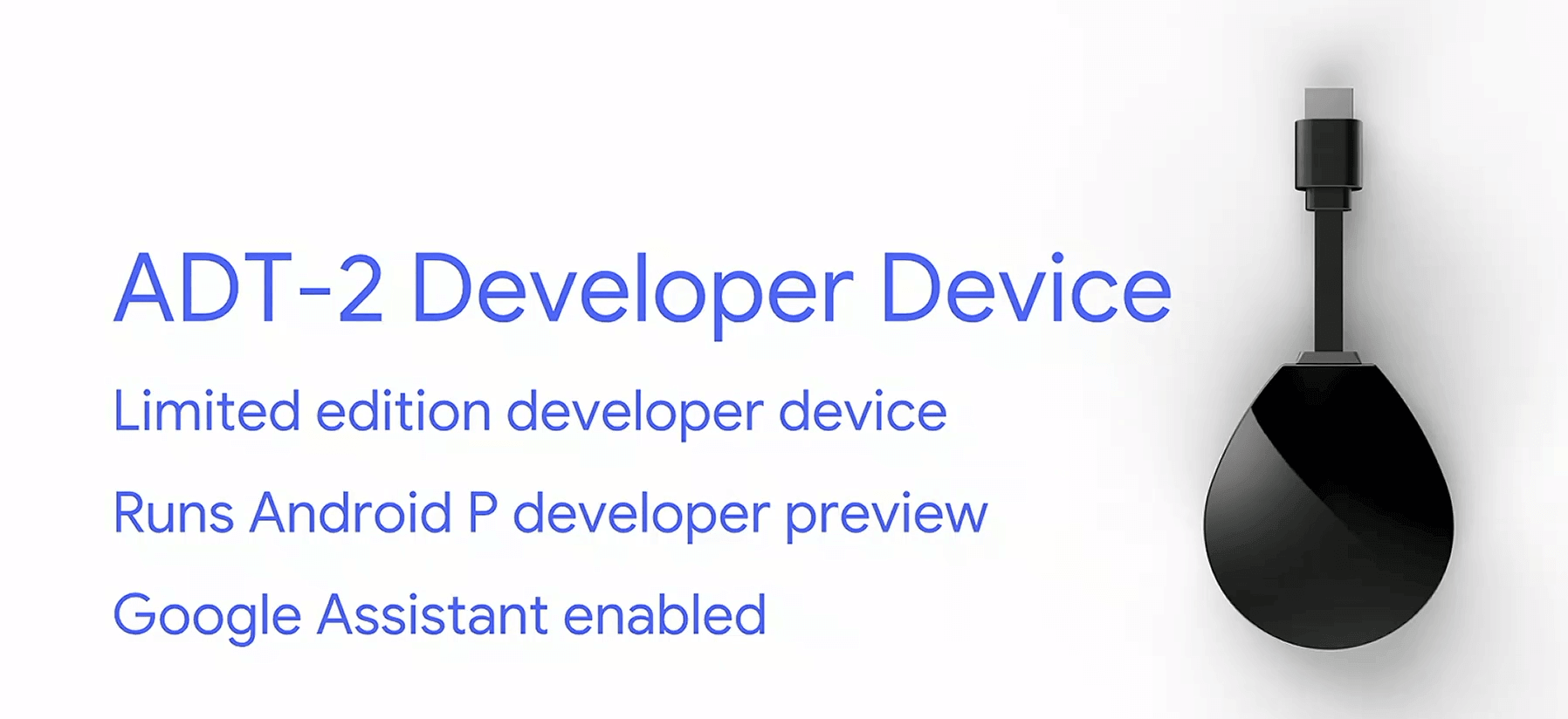 With the Google Nexus Player's support for new Android versions dropped, developing applications for new Android TV versions currently involves manually flashing developer previews to hardware from third parties. During the Android TV session at I/O 2018, Google had some good news for Android TV developers that face this struggle on a daily basis: The Android TV ADT-2 Developer Device. This Google Assistant enabled device runs Android P developer preview and will automatically receive updates of the preview as they become available, pushed to your device by Google.
The hardware isn't particularly impressive, but it should get the job done. With 2GB of Ram and 8GB of storage, it features the same chipset as Amazon's current 4K Fire TV dongle. This might be a prelude to a consumer-facing device launched later this year, but I wouldn't hold your breath: It seems like Google's recent strategy of working with partners on Android TV is paying dividends, so there seems little incentive to dive back into the media player hardware space.