---
In less than a decade, DVB-T2 has seen rapid adoption in markets like the United Kingdom (Freeview HD), Suriname (Wise, designed and deployed by Divitel) and Germany (Freenet TV, also with assistance from Divitel). The benefits for end-users are obvious, but how do you migrate your DVB-T platform or even start a new platform from scratch? Divitel has experience designing, building and deploying highly agile and effective DVB-T2 platforms, all over the globe. Want to know more or discuss a specific project? Fill out the form on this page or send us an email at marketing@divitel.com – We'll get back to you within 24 hours.
---
---
Why Divitel?
Quality above all
When we deploy DVB-T2 systems, they work. We leverage unique facilities like our Video Application Lifecycle Testlab and highly skilled engineers to ensure that all our releases surpass the expectations of even your most critical end-users.
As involved as needed
We can do more than just design and deploy industry-leading DVB-T2 platforms. If desired, we can operate, test and transition these systems through a highly effective set of skills, scale and technology, ensuring speed and quality for your end-users.
---
---
From DVB-T to DVB-T2
As the next generation of terrestrial distribution technology (DTT), DVB-T2 offers more bandwidth, efficiency, robustness and flexibility than its predecessor. Most importantly for end-users, it's specifically suited to carry HDTV signals through terrestrial TV channels. The result is a wider selection, better quality and higher resolutions for end-users that – more often than not – have an HDTV at home.
HD over the air: The standard
The specifics for T2 were agreed upon by the DVB Steering Board in June of 2008. Formal adoption took place in September of 2009 and concerned the following characteristics:
FEC is concatenated LDPC and BCH codes (as in DVB-S2 and DVB-C2), with rates 1/2, 3/5, 2/3, 3/4, 4/5, and 5/6.
COFDM modulation with QPSK, 16-QAM, 64-QAM, or 256-QAM constellations.
DVB-T2 is specified for 1.7, 5, 6, 7, 8, and 10 MHz channel bandwidth.
OFDM modes are 1k, 2k, 4k, 8k, 16k, and 32k. The symbol length for 32k mode is about 4 ms.
Multiple PLPs to enable service-specific robustness at a particular bit rate.
Guard intervals are 1/128, 1/32, 1/16, 19/256, 1/8, 19/128, and 1/4. (For 32k mode, the maximum is 1/8.)
There are fewer pilots, in 8 different pilot-patterns, and equalization can be based also on the RAI CD3 system.[19]
In the 32k mode, a larger part of the standard 8 MHz channel can be used, adding about 2% extra capacity.
MISO (Multiple-Input Single-Output) may be used (Alamouti scheme), but MIMO will not be used. Diversity receivers can be used (as they are with DVB-T).
Bundling of more channels into a SuperMUX (called TFS) is not in the standard, but may be added later.
DVB-T compared to DVB-T2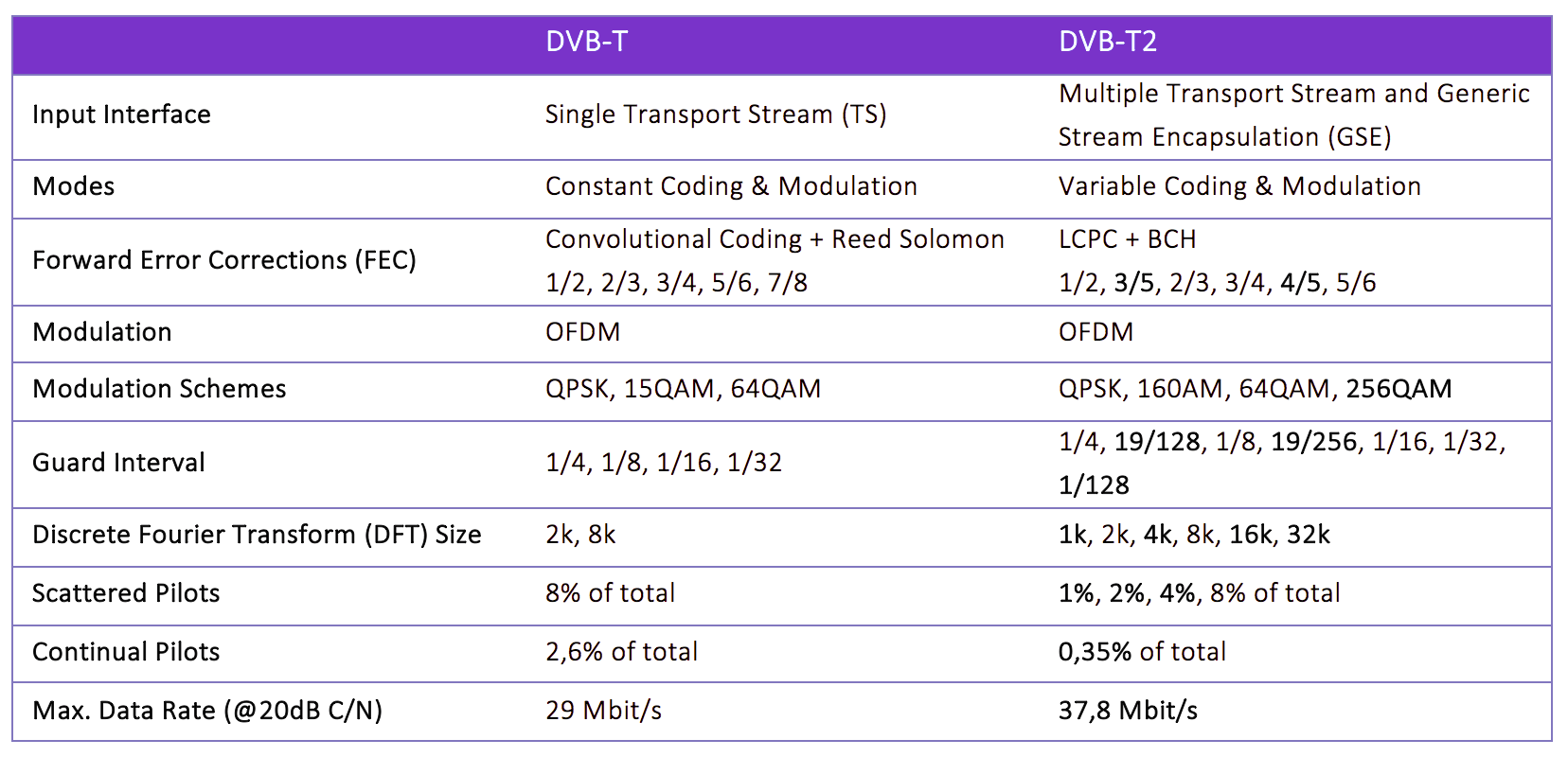 DVB-T2 Solutions and Projects
With the deployment of WISE DTT TV, Divitel was the very first company to implement DVB-T2 in the whole of Latin America. This first experience with the technology led to learnings that have since been leveraged to greatly speed up the deployment of similar systems for customers in other parts of the world. Lloyd Groenhart, managing director at Wise commented: "What is important to me is that I enter into a partnership, which is something else than the relationship I have with the supermarket chain in which I shop weekly. Partnership from a Surinamese perspective is about looking after each other from a commercial, technical, operational etc. perspective. Divitel is that partner for us."
Do you currently have a DVB-T system which you'd like to update or are you looking to launch a new terrestrial TV service going directly to DVB-T2? In both cases, Divitel can help. Both through the design, construction and deployment of a DVB-T2 solution, but also through highly effective managed services or video delivery consultancy and more. Simply reach out and we'll connect you to the right people within the organization in a matter of hours. We're all about speed and quality and we'd love the opportunity to share some of our skill, scale and technology with you.
Want to know more?
Leave a message and we'll contact you within 24 hours