Divitel talked to German-language cable TV magazine Cable!Vision Europe about the way we're improving the economics of video delivery. Read the article here.
Cable!Vision Europe is one Europe's longest-running magazines for broadband, IPTV, cable and satellite. Recently, Editor in Chief Wolfgang Posewang visited Divitel in Apeldoorn for a tour and interview with our Managing Director, Rob Wijnen. In the most recent edition of this magazine, an article was published based on this visit. The following is that article in English, followed by the original German version.
Have any questions or comments regarding the article? Please feel free to reach out to your Divitel contact or send an email to marketing@divitel.com. We're also currently scheduling meetings for both NAB in Las Vegas, as well as ANGA COM in Cologne. If you're interested in meeting Divitel at either of these events, send us an email.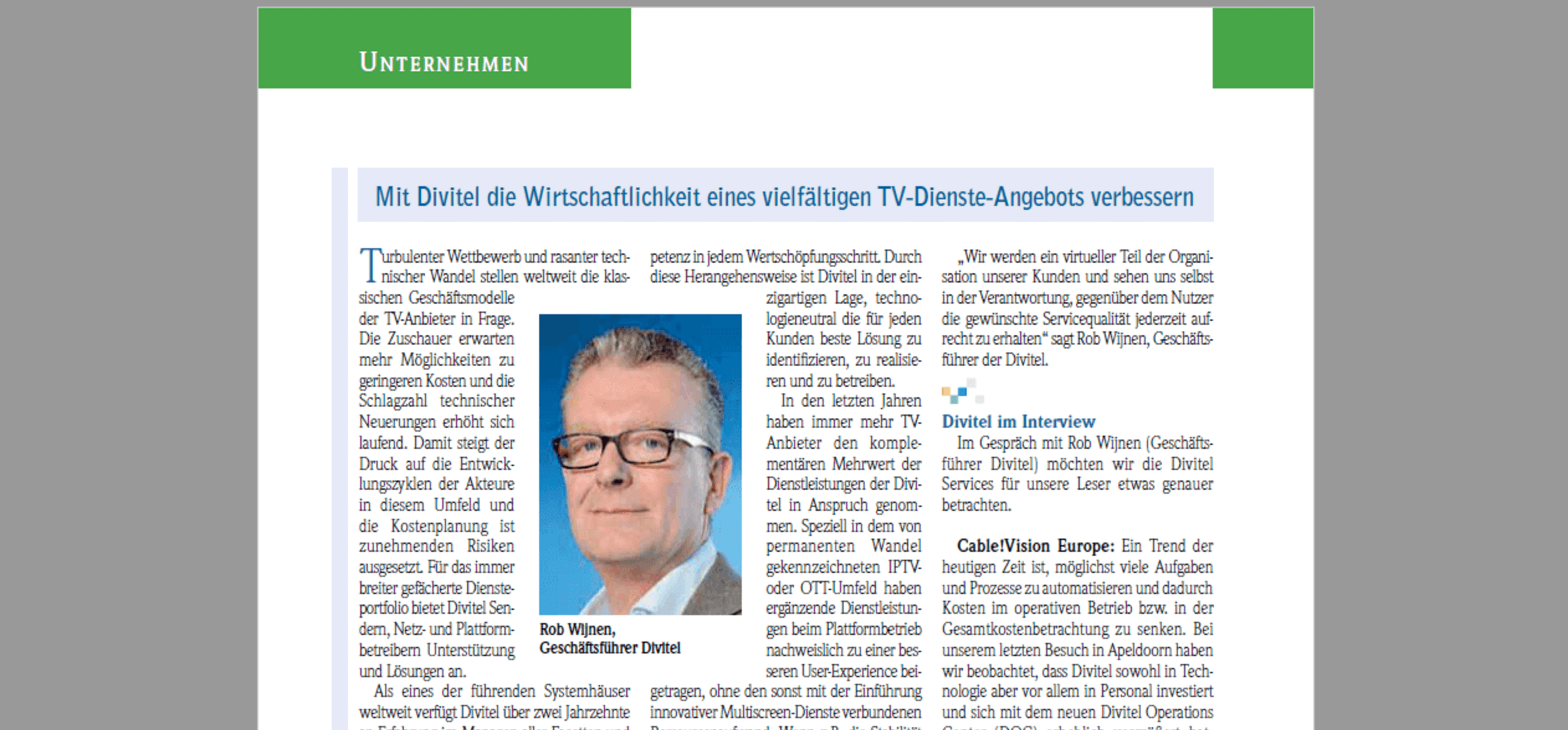 Improving the economics of a wide range of TV services with Divitel
A turbulent competitive landscape and rapid technological advances are putting the classic business model of TV providers into question. Customers expect more for less and technology keeps marching on relentlessly. This puts tremendous pressure on development cycles, while planning cost with any degree of accuracy is becoming ever more challenging. Divitel offers broadcasters, network operators and platform operators support and solutions that address these challenges. As one of the world's leading system integrators, Divitel has over two decades of experience in managing all facets of technology change.
Divitel's holistic approach goes far beyond the classical design and installation of video delivery systems: From strategic consultancy on video delivery challenges, to building the best possible video delivery solutions and managing video delivery with lean, effective services. Divitel's expertise allows them to add value to every step. Through this approach, Divitel is in a unique position to identify, implement and operate the best solution for every customer. In recent years, more and more TV providers have taken advantage of the complementary value of Divitel's services. Especially in the IPTV or OTT environment characterized by permanent change, complementary services have demonstrably contributed to a better user experience, without the drain on resources often associated with multiscreen services. For example, when the stability of a TV service is threatened by constant software or firmware updates, a structured, previously agreed schedule is processed by Divitel by which these changes are managed and risks are minimized in advance. The human resources to manage these back-office services are always available, even if customer requirements change over time or when there's an increase in the number of product launches.
"We become a virtual part of our customers' organization and take responsibility for maintaining the desired quality of service at all times," says Rob Wijnen, Managing Director of Divitel.
An interview with Divitel
In conversation with Rob Wijnen (Managing Director Divitel), we're going to take a closer look at Divitel's services for our readers.
Cable! Vision Europe: A trend today is to automate as many tasks and processes as possible, thus reducing operational expenses and the total cost of ownership of video delivery solutions. During our visit to Apeldoorn, we noticed that Divitel has invested both in technology and, above all, in personnel. Those investments have considerably increased with the new Divitel Operations Center (DOC). Why is this, Mr Wijnen?
Rob Wijnen: The trend towards automation is now a reality. Network operators are faced with balancing very fast technological developments and market requirements on the one hand, and the associated investments in technology and personnel on the other hand. For now, crucial parts of the video delivery process cannot be automated. Of course, a lot of automation is available, but at essential points there are still qualified employees, especially when unforeseen problems arise. For Divitel, this means we invest in a future we believe in. Our customers, in turn, can profit from these investments through a service that greatly reduces their resource risk.
CVE: Most Divitel customers have many years of experience as a network operator in the cable industry and many employees have the corresponding specialist knowledge. Why is this – in some cases- insufficient in your eyes?
Wijnen: Because the TV world has changed and still is changing. Technical and commercial requirements today have time horizons of months instead of years. Employees must keep up with developments and go through continuous training, in addition to their day-to-day operational work. This is why we have continued to grow our team, ensuring scalability of our IP competence. Or to put it simply – DVB is often the static basis, but the services environment in the IP world is very dynamic. Our customers operate the network and the technology, Divitel supports the operation and further development of the TV services.
CVE: Divitel sees itself as a "virtual" part of the organization at the customer. Why "virtual" and how does Divitel connect their Divitel Operations Center (DOC) to the customer systems?
Wijnen: For us, being a virtual part of the organization means that we act as an organizational unit for the customer. Just not within its premises, but in Apeldoorn. With this approach, we ensure that every employee, as well as the entire Divitel management, is committed to contributing to the success of the customer on a daily basis. Thanks to an IP connection to the customer's systems in our DOC, we have real-time access and can directly identify and correct problems that occur. The process flows are defined in advance with the customer, based on ITIL standards. This results in enormous scale effects in operation.
CVE: One of Divitel's customers, Quickline, recently launched their new TV product in Switzerland. What role does Divitel play in this new service?
Wijnen: During the development of its new TV service, Quickline realized that today's TV product can no longer be specified, developed and delivered, as is customary in the past. It needs continuous adaptation and development. During the development phase, but also in its day to day operation. Quickline was faced with a decision: Build up additional personnel and face all the challenges involved, or select a partner that can contribute this knowledge immediately and at a significantly lower cost – complementary to the existing resources to enable the transfer of knowledge. We are this complementary partner.
CVE: What challenges do you see in the development of qualified personnel?
Wijnen: Well, it is essential that you first find experienced engineers, who can follow the rapid technological change on the market. An affinity to the topics of video and IP is a must. Onboarding for new employees begins with topic-oriented training and, in parallel, receive general training on our operations. One new employee isn't enough, though – typically there are about 2, 5 full-time employees per 'job', to account for sick days, leave, shift-changes and more. This usually means you have to hire a large number of new employees. This takes time and causes significant additional operational costs.
CVE: And Divitel doesn't face these significant costs?
Wijnen: No, or not to this extent. We already built our DOC in a matrix organization several years ago. This gives us access to a relatively high number of employees, which can be used in a flexible and scalable fashion, depending on the customer and the project. This means that almost no idling occurs and freelancers can be trained and added – in parallel with the ongoing service provided to our customers. Any costs involved are considered an investment in the future.
CVE: To what extent are Quickline's partner aware of your involvement?
Wijnen: For Quickline partners the existing process remains unchanged. Quickline is still the channel through which its partners report possible problems. However, we do monitor quality of service within the partner network up to the end device and pro-actively address network-side faults in the service.
CVE: How would you briefly describe Divitel?
Wijnen: In two decades of close collaboration with leading broadcasters, network operators and service providers, we have developed a deep understanding of designing and operating video delivery platforms. We are proud that we have been able to grow together with our customers. From consultation in the exploratory phase, as a system integrator when implementing a new solution and ultimately as a partner in the day to day operations of a TV solution. Present and future customers see tremendous benefits from this experience.
Mit Divitel die Wirtschaftlichkeit eines vielfältigen TV-Dienste-Angebots verbessern
Turbulenter Wettbewerb und rasanter technischer Wandel stellen weltweit die klassischen Geschäftsmodelle der TV-Anbieter in Frage. Die Zuschauer erwarten mehr Möglichkeiten zu geringeren Kosten und die Schlagzahl technischer Neuerungen erhöht sich laufend. Damit steigt der Druck auf die Entwicklungszyklen der Akteure in diesem Umfeld und die Kostenplanung ist zunehmenden Risiken ausgesetzt. Für das immer breiter gefächerte Diensteportfolio bietet Divitel Sendern, Netz- und Plattformbetreibern Unterstützung und Lösungen an.
Als eines der führenden Systemhäuser weltweit verfügt Divitel über zwei Jahrzehnte an Erfahrung im Managen aller Facetten und Auswirkungen des technologischen Wandels. Dabei geht Divitels ganzheitlicher Ansatz weit über den klassischen Entwurf und Installation von Systemen zur Verbreitung von Bewegtbild-Inhalten hinaus: Von der Strategie-Beratung für neue Herausforderungen der Programmverbreitung angefangen, über Entwurf und Realisierung der bestmöglichen Lösung, bis hin zu schlanken und effizienten Dienstleistungen rund um den Betrieb technischer Plattformen für die Video-Delivery zeigt Divitel seine Kompetenz in jedem Wertschöpfungsschritt. Durch diese Herangehensweise ist Divitel in der einzigartigen Lage, technologieneutral die für jeden Kunden beste Lösung zu identifizieren, zu realisieren und zu betreiben.
In den letzten Jahren haben immer mehr TVAnbieter den komplementären Mehrwert der Dienstleistungen der Divitel in Anspruch genommen. Speziell in dem von permanenten Wandel gekennzeichneten IPTVoder OTT-Umfeld haben ergänzende Dienstleistungen beim Plattformbetrieb nachweislich zu einer besseren User-Experience beigetragen, ohne den sonst mit der Einführung innovativer Multiscreen-Dienste verbundenen Ressourcenaufwand. Wenn z.B. die Stabilität eines TV-Dienstes durch ständige Software-Updates oder Endgeräteaktualisierungen bedroht ist, wird von Divitel ein strukturierter, zuvor vereinbarter Ablaufplan abgearbeitet durch den diese Änderungen gemanagt und Risiken im Vorfeld minimiert werden. Diese Back-Office Dienstleistungen stehen in Sachen Personalressourcen immer passend zur Verfügung, auch wenn sich Kundenanforderungen über die Zeit verändern odersich punktuell bei Produktlaunches erhöhen.
"Wir werden ein virtueller Teil der Organisation unserer Kunden und sehen uns selbst in der Verantwortung, gegenüber dem Nutzer die gewünschte Servicequalität jederzeit aufrecht zu erhalten" sagt Rob Wijnen, Geschäftsführer der Divitel.
Divitel im Interview
Im Gespräch mit Rob Wijnen (Geschäftsführer Divitel) möchten wir die Divitel Services für unsere Leser etwas genauer betrachten.
Cable!Vision Europe: Ein Trend der heutigen Zeit ist, möglichst viele Aufgaben und Prozesse zu automatisieren und dadurch Kosten im operativen Betrieb bzw. in der Gesamtkostenbetrachtung zu senken. Bei
unserem letzten Besuch in Apeldoorn haben wir beobachtet, dass Divitel sowohl in Technologie aber vor allem in Personal investiert und sich mit dem neuen Divitel Operations Center (DOC) erheblich vergrößert hat. Warum dann diese Investitionen gegen den Branchentrend, Herr Wijnen?
Rob Wijnen: Der Trend zur Automatisierung und Rationalisierung ist heute Realität. Netzbetreiber stehen vor genau dieser Herausforderung – nämlich einerseits den sehr schnellen technologischen Weiterentwicklungen und Marktanforderungen gerecht werden zu müssen, gleichzeitig aber auch den damit verbundenen Aufwand an Investition und Personal nicht immer alleine stemmen zu können. Technische Lösungen und Systeme, die automatisierte Prozesse unterstützen, stehen zwar zur Verfügung. An den wesentlichen Stellen braucht es aber immer noch qualifizierte Mitarbeiter, spätestens dann wenn Probleme auftauchen. Die Definition eines Dienstes und die Bewertung der Ergebnisse können nicht automatisiert werden. Für Divitel heißt das: wir investieren in die Zukunft an die wir glauben und bieten unseren Kunden einen Service der ihr Ressourcen-Riskio stark reduziert.
CVE: Die meisten Divitel Kunden haben ja bereits jahrelange Erfahrung als Netzbetreiber im Kabelumfeld und viele Mitarbeiter ein entsprechendes Fachwissen. Warum könnte dies in Ihren Augen nicht mehr ausreichend sein?
Wijnen: Weil sich die TV Welt sehr verändert hat und noch immer verändert. Technische und kommerzielle Anforderungen haben heute Zeithorizonte von Quartalen und Halbjahren, nicht mehr von mehreren
Jahren. Mitarbeiter müssen immer am Puls der Zeit agieren und kontinuierliche Weiterbildung durchlaufen. Und dies neben dem operativen Betrieb. Daher stocken wir unser Team immer weiter auf und sind mit unserer IP-Kompetenz skalierbar. Oder um es einfach auszudrücken – DVB ist oftmals die statische Basis, die Dienste-Umgebung in der IP-Welt aber ist sehr dynamisch. Unsere Kunden betreiben das Netz und die Technik, Divitel unterstützt bei Betrieb und Weiterentwicklung der TV-Services.
CVE: Divitel sieht sich als "virtueller" Teil der Organisation beim Kunden. Warum "virtuell" und wie verbindet Divitel das DOC mit den Kundensystemen?
Wijnen: Virtuell heißt für uns, dass wir als Organisationseinheit des Kunden agieren. Nur eben nicht innerhalb seiner Räumlichkeiten sondern in Apeldoorn. Mit diesem Ansatz bewirken wir, dass jeder
Mitarbeiter und auch das gesamte Divitel Management in der Verpflichtung steht, zum Erfolg des Kunden täglich beizutragen. Im DOC haben wir dank IP-Anbindung an die Systeme des Kunden einen Echtzeitzugriff und können auftretende Probleme unmittelbar erkennen und beheben. Die Prozessabläufe werden hierzu, basierend auf ITIL-Standards, im Vorfeld mit dem Kunden definiert. Dadurch erzielen wir enorme Skaleneffekte im Betrieb.
CVE: Nun hat einer der Divitel Kunden, die Quickline, kürzlich ihr neues TV Produkt in der Schweiz gestartet. Welche Rolle spielt Divitel hierbei?
Wijnen: Während der Entwicklung ihres neuen TV Services hat Quickline erkannt, dass ein heutiges TV Produkt nicht mehr, wie in der Vergangenheit üblich, spezifiziert, entwickelt und ausgeliefert werden kann, sondern dass es einer kontinuierlichen Anpassung und Weiterentwicklung bedarf. Während der Projektphase, aber vor allem auch im operativen Betrieb. Quickline stand vor der Entscheidung, zusätzliches, eigenes Personal aufzubauen und sich allen damit verbundenen Herausforderungen zu stellen oder aber einen Partner auszuwählen, der dieses Wissen sofort und zu deutlich geringeren Kosten beisteuern kann – komplementär zu den existierenden Ressourcen, um den Wissenstransfer zu ermöglichen. Wir sind dieser komplementäre Partner.
CVE: Welche Herausforderungen sehen Sie beim Aufbau von qualifiziertem Personal?
Wijnen: Nun, ganz wesentlich ist, dass man zunächst erfahrene Ingenieure finden muss, welche auch dem schnellen, technologischen Wandel am Markt folgen können. Eine Affinität zu den Themen Video und IP muss vorhanden sein. Hat man geeignete Mitarbeiter an Bord geholt, dann beginnt das themenbezogene Training und eigentlich parallel hierzu auch bereits die Weiterbildung. Und mit einem neuen Mitarbeiter ist es ja nicht getan – typischerweise rechnet man im Betrieb mit etwa 2, 5 Vollzeitkräften pro Stelle, wenn man Urlaub, Krankheit und z.B. Schichtbetrieb berücksichtigt. Das kann bedeuten, dass man unter Umständen eine Vielzahl neuer Mitarbeiter einstellen und einarbeiten muss. Dies benötigt Zeit und verursacht erhebliche operative Zusatzkosten.
CVE: Und Divitel treffen diese erheblichen Kosten nicht?
Wijnen: Nein, bzw. nicht in diesem Maß. Denn wir haben bereits vor einigen Jahren unser DOC in einer Matrixorganisation aufgebaut. Dies gibt uns bereits heute Zugriff auf eine relativ hohe Anzahl an Mitarbeitern, die jeweils kunden- und projektbezogen sehr flexibel und skalierbar eingesetzt werden können. Hierdurch bewirken wir, dass nahezu kein Leerlauf entsteht und eventuelle freie Mitarbeiter weitergebildet werden können – parallel zum laufenden Service bei unseren Kunden. Daher sehen wir dies als Investition in die Zukunft und nicht als Kosten an.
CVE: Inwieweit sind die Quickline-Partner in diesen Prozess mit eingebunden?
Wijnen: Für die Quickline-Partner ändert sich am bestehenden Prozess nichts. Quickline ist weiterhin die exklusive Schnittstelle für die Partnernetze, um mögliche Probleme zu melden. Allerdings kann Divitel die Servicequalität auch innerhalb der Partnernetze bis zum Endgerät überwachen und netzseitige Störungen beim TV-Service pro-aktiv an Quickline melden.
CVE: Wie würden Sie Divitel abschließend kurz beschreiben?
Wijnen: In zwei Jahrzehnten unserer engen Zusammenarbeit mit führenden Broadcastern, Netzbetreibern und Serviceanbietern haben wir ein tiefgreifendes Verständnis entwickelt, Video Delivery Plattformen zu entwerfen und zu betreiben. Wir sind stolz darauf, dass wir über die Beratung während der Findungsphase, im Rahmen der Umsetzung als Systemintegrator und schlussendlich als Partner im laufenden Betrieb einer TV-Lösung gemeinsam mit unseren Kunden wachsen durften. Diese Erfahrungen bieten wir unseren heutigen und künftigen Kunden an.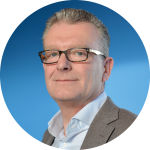 Rob Wijnen, MD, Divitel