Video Delivery Landscape
200+ Of Video Delivery's Most Important Brands, Companies and Products
Divitel's Video Delivery Landscape is the best overview of the current state of video delivery technology available. Regularly, we update this overview with new companies, brands and products in different categories within video delivery tech. You'll find the world's most important DRM-suppliers, video players, video processors and more. Check back regularly for the latest version, bookmark the page for a handy list of companies with links to their corresponding websites or sign up for our Video Delivery Landscape list and always receive the most recent PDF when it releases.
---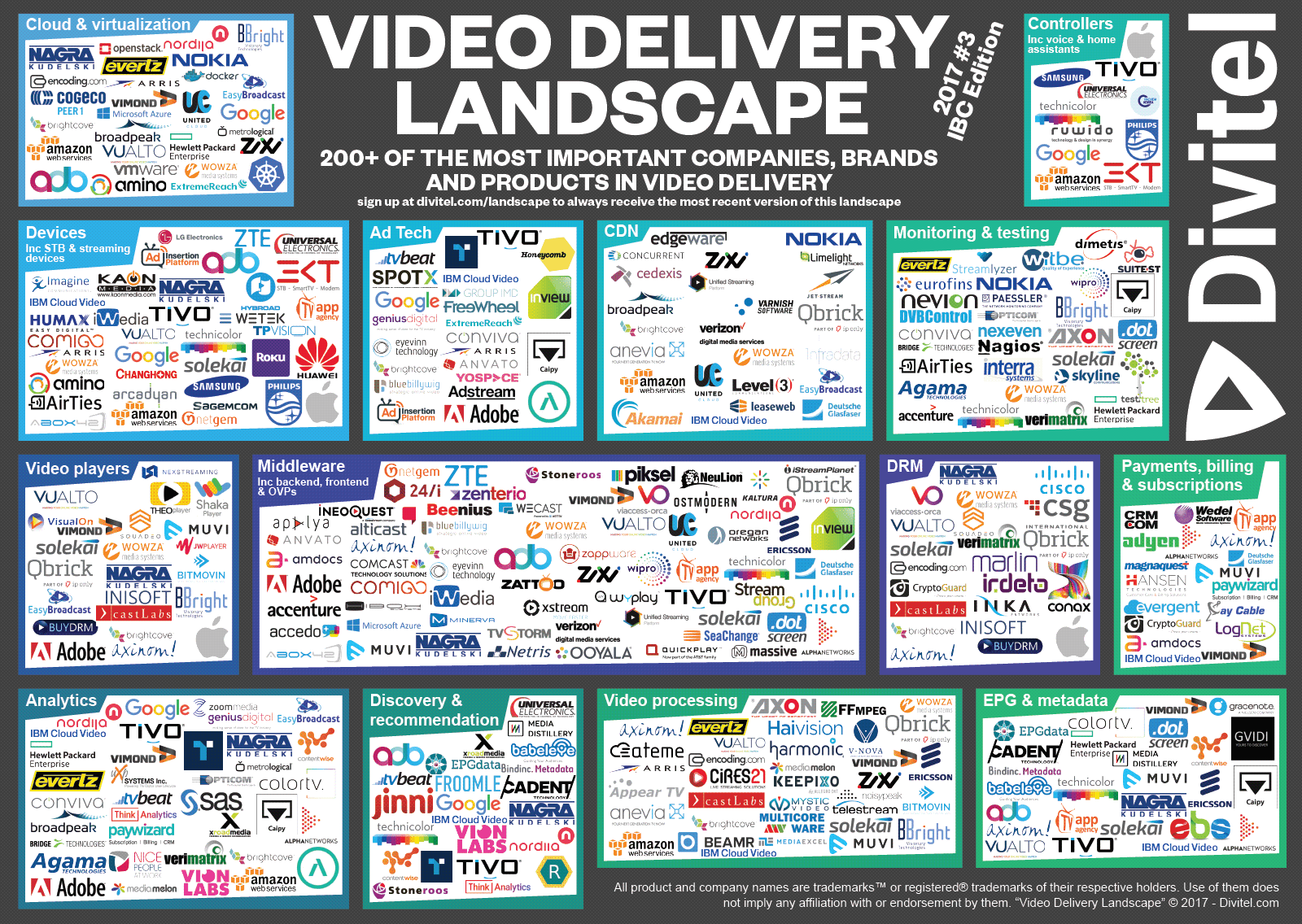 ---
You can download the latest iteration of our Video Delivery Landscape poster by clicking the button below. It's hosted online, but you'll find a 'downward arrow' button in the bottom right corner, which allows you to download a print-ready PDF:
We now also host a Video Delivery Landscape booklet, in which you'll find more info on the 200+ companies listed on the poster. It's also hosted online and features the same download option the poster does:
---
---
---
Some Questions and Answers
---
How often do you update the Video Delivery Landscape?
Currently, we're aiming to update the Landscape multiple times per year, mostly surrounding major industry events like ANGACOM, IBC and such.
Where did you find your data for this landscape?
As one of the world's premier system integrators for video delivery, the first version of this Landscape was simply a collection of the knowledge contained within our organization. Since then, it's evolved into something that incorporates a lot of knowledge and feedback received from the video delivery community at large. Since IBC 2017, video delivery technology companies have also supplied us with their own entry details, which currently makes up roughly 50% of the content.
Can I have a written overview of everyone mentioned in the Landscape?
Yes. If you can find an online version of the Video Delivery Landscape booklet here, which lists all 200+ companies from the poster.
Your list isn't complete!
You're right. We had to make a choice to stop the resulting overview from being just a huge pile of logos. As such, we only included the companies, brands and products we deemed most relevant. Also, video delivery is changing more rapidly then ever, making it virtually impossible to create a snapshot that maintains its relevance beyond a few months. All that being said, we're very open to feedback, so if you feel we missed something, send us an email at marketing@divitel.com.
---
---
---
Companies
---
---
---
Categories
---
Ad Tech
Analytics
Payments, Billing & Subscriptions
CDN
Cloud & Virtualization
Controllers
Devices
Discovery & Recommendation
DRM
EPG & Metadata
Middleware
Monitoring & Testing
Video Processing
Video Players
---