Grow your business. Create excellent video operations. Embrace the complex video delivery landscape.
The Video Delivery Landscape is a tool we use to help you navigate the increasingly complex and fragmented video delivery technology ecosystem. We have spent over 20 years learning (almost) all there is to know about video delivery technology. First solely as an independent video systems integrator, now also as a provider of managed services, strategic advice and impactful innovations like our Intelligent Analytics Solution.
Click the button below to download the PDF from this page. If you happen to be at IBC, drop by our venue (Hall 13, 3rd floor) to get a A1-sized print copy of the poster!
---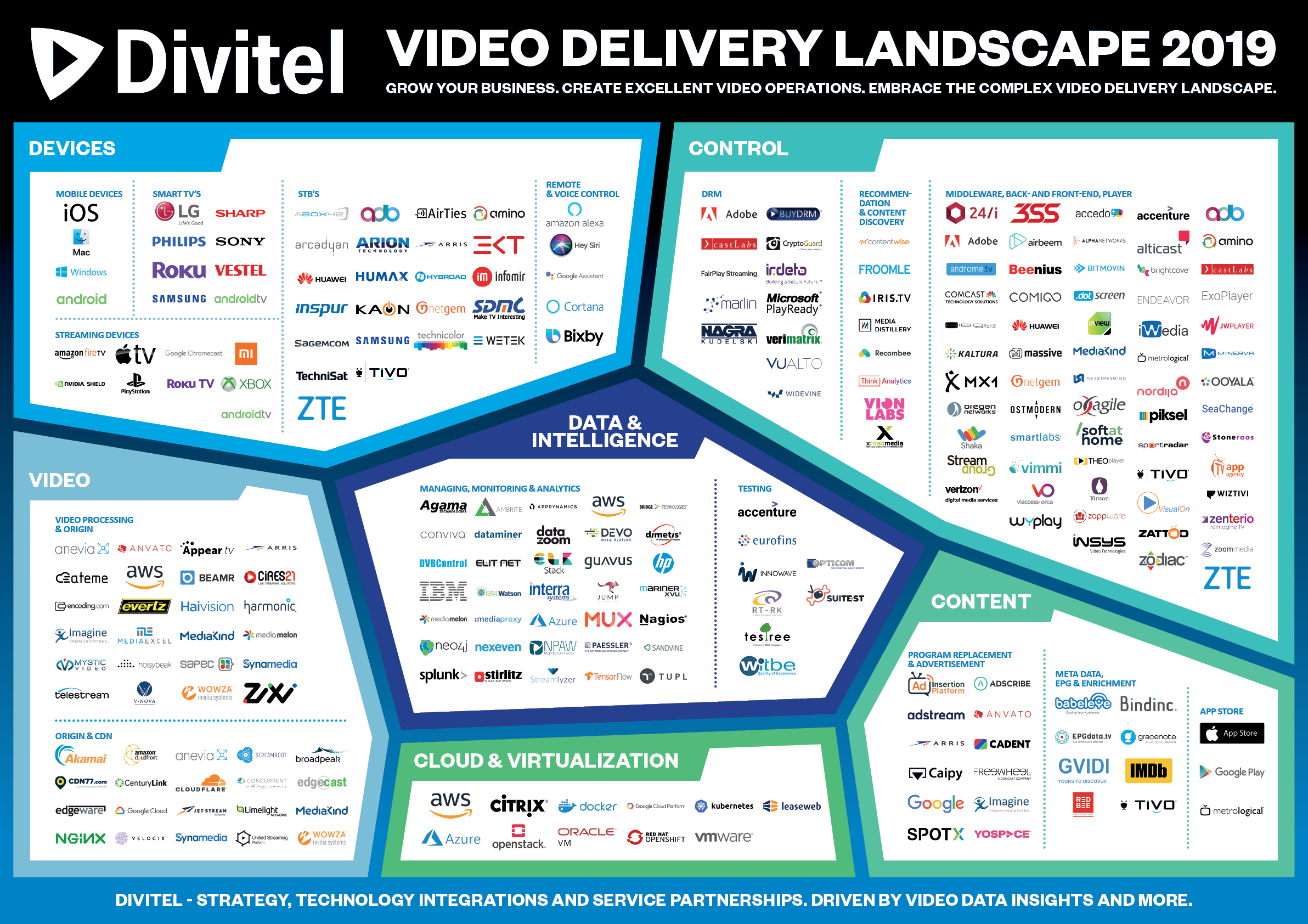 All products and company names are trademarks™ or registered® trademarks of their respective holders. Use of them does not imply any affiliation with or endorsement by them. "Video Delivery Landscape" © 2019 – Divitel.com
---
Questions and Answers
Where did the Video Delivery Landscape come from?
The Video Delivery Landscape evolved from an internal tool stitched together from company Excel sheets to show new hires the width of our ecosystem. After aggregating all that data, it seemed like something the rest of the industry could benefit from as well, so we decided to turn it into something everyone can access.
How often do you update the Video Delivery Landscape?
As often as we can, so that it remains relevant and in line with the dynamic market that we operate in.
Your list isn't complete!
We have to make choices to stop the result from being just a huge pile of logos. As such, we have been only including those companies, brands and products we deem most relevant. Also, video delivery is changing more rapidly then ever, making it virtually impossible to create a snapshot that maintains its relevance beyond a few months. All that being said, we are very open to feedbacks, so if you feel something is missing, send us an email at marketing@divitel.com
---
Categories