With their QoE Monitoring Robots and Test Automation technology, Witbe ensures the quality of experience delivered to end-users – of any service, on any device and over any network. Witbe robots replicate users behavior nonstop and detect real-time service degradation, allowing internet service providers, content owners and other enterprises to improve their customer experience. At Divitel we're able to seamlessly integrate Witbe's monitoring and testing solutions into your video delivery infrastructure, as well as offer Witbe-assisted automated testing as a service. Want to know more? Leave a message on this page or email us at marketing@divitel.com.
---
---
---
Witbe Test Automation and Validation
End-users expect flawless video quality. However, with multi-room environments, multiple devices and various types of operating systems, testing your video service is both labor – and time intensive. By replicating end-user behaviors, Witbe's Test Automation and Validation technology – supporting the most recent industry standards – enables you to quickly run complex test scenarios in real end-users environments.
---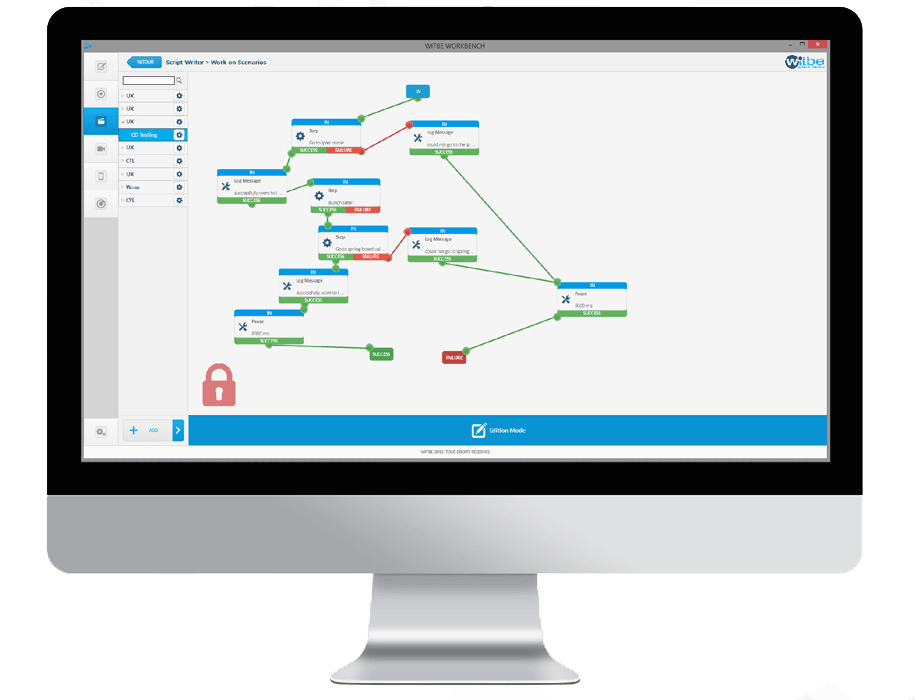 By using drag-and-drop tests blocks in Witbe's "Workbench" test creation interface, or by creating your own tests blocks, engineers can write their own scripts and create any kind of scenario. With the scheduler function, scripts can be tested on as many devices as you wish. The test reports are then available in an easy-to-use online portal.
---
Witbe Monitoring for Video Services
Customers are fickle. The barrier to jump over to a new TV or video service provider has never been lower. In order to retain your customers and – at the end of the day – improve LTV (Lifetime Value), it's crucial that you offer the best possible video quality in every possible scenario. Monitoring and testing tools like those offered by Witbe are a must for a modern, complex video delivery solution. With Witbe's end-to-end monitoring solutions, you can easily measure the quality of your VoD service, OTT service, Live TV or other video service(s). Witbe's Audio/Video MOS Analysis algorithm – which can be run on any device – measures your true audio and video quality and provides you with unique insights of what your end-users really experience when using your video service.
Real-time alerting ensures the timely detection of problems. Through the Divitel Operations Center, we allow TV operators of any size to benefit from the innovative monitoring technology vendors like Witbe develop. Through our Managed Services for Pay TV Operators, experienced engineers can manage this technology and detect and solve issues as they occur in your video delivery solution. Advances in machine learning and automation constantly improve this process, making it more economical and greatly reducing the occurrence of quality-related first-line support requests.
OTT Video Monitoring
Recently, Witbe launched specialized OTT monitoring technology, to great reviews from broadcasters and operators alike. Adoption has been rapid, as multiple clients now use this tech toanalyze and improve the quality of their video service, directly addressing common OTT issues such as content loops, frozen screens, CDN performance, etc.

---
What can Divitel do for you?
As a Witbe partner, Divitel has deployed Witbe Monitoring and STB Test Automation technology in highly complex video delivery solutions. In addition to extensive knowledge and experience with Witbe in our role as independent system integrators for video delivery, their technology features often in our innovative video operations facilities. Plug in to Europe's first automated TV and Video Application Lifecycle Testlab and you'll benefit from highly effective testing technology as developed by Witbe and other Divitel partners, or join some of the world's most competitive TV operators and have your TV operations monitored from the Divitel Operations Center.
Would you like to talk to one of our engineers about your requirements or simply chat about the pros and cons of Witbe's Monitoring Robots and testing technology? Fill out the form on this page, drop us an email at marketing@divitel.com or reach out to your personal Divitel contact.
Want to know more?
Leave a message and we'll contact you within 24 hours