Empower your business with real-time event stream processing (ESP) and the insights needed to enhance end-user quality of experience, increase efficiencies and improve operational economics. Divitel's Operational Intelligence Platform for Video and TV translates scattered, unactionable data into high-quality, actionable insights.
Divitel's Operational Intelligence Platform for Video and TV is an operational intelligence solution that enables video and TV businesses to make faster, smarter decisions. It offers real-time end-to-end video delivery process event stream processing from ingestion, all the way up to the end-user device or application. By employing pattern detection, advanced analytics, intelligent alerting and response management, scattered monitoring tools can be augmented with intuitive, effective dashboards and alerts that add context, causes and resolutions to ensure a swift response. Custom integrations allow these same insights to inform fully automated customer care chatbots, as well as tooling to greatly speed up first line support resolution time, while providing you with the insights needed to proactively reduce risk, improve customer experience and meet your business objectives.
---
---
An iteratively deployed, highly integrated operational intelligence platform for video and TV
Our Operational Intelligence Platform (OIP) for Video and TV is a smart solution that combines commodity modules with custom integrations tailored to your business, deployed iteratively to ensure quick return on investment and continuous realignment with your business objectives. The result is data-driven, analytics-powered platform that will start improving the economics of your business from day one. Each following iteration will further improve your performance on mission-critical KPIs like time-to-resolution, Net Promoter Score (NPS), Churn and more.
OIP Features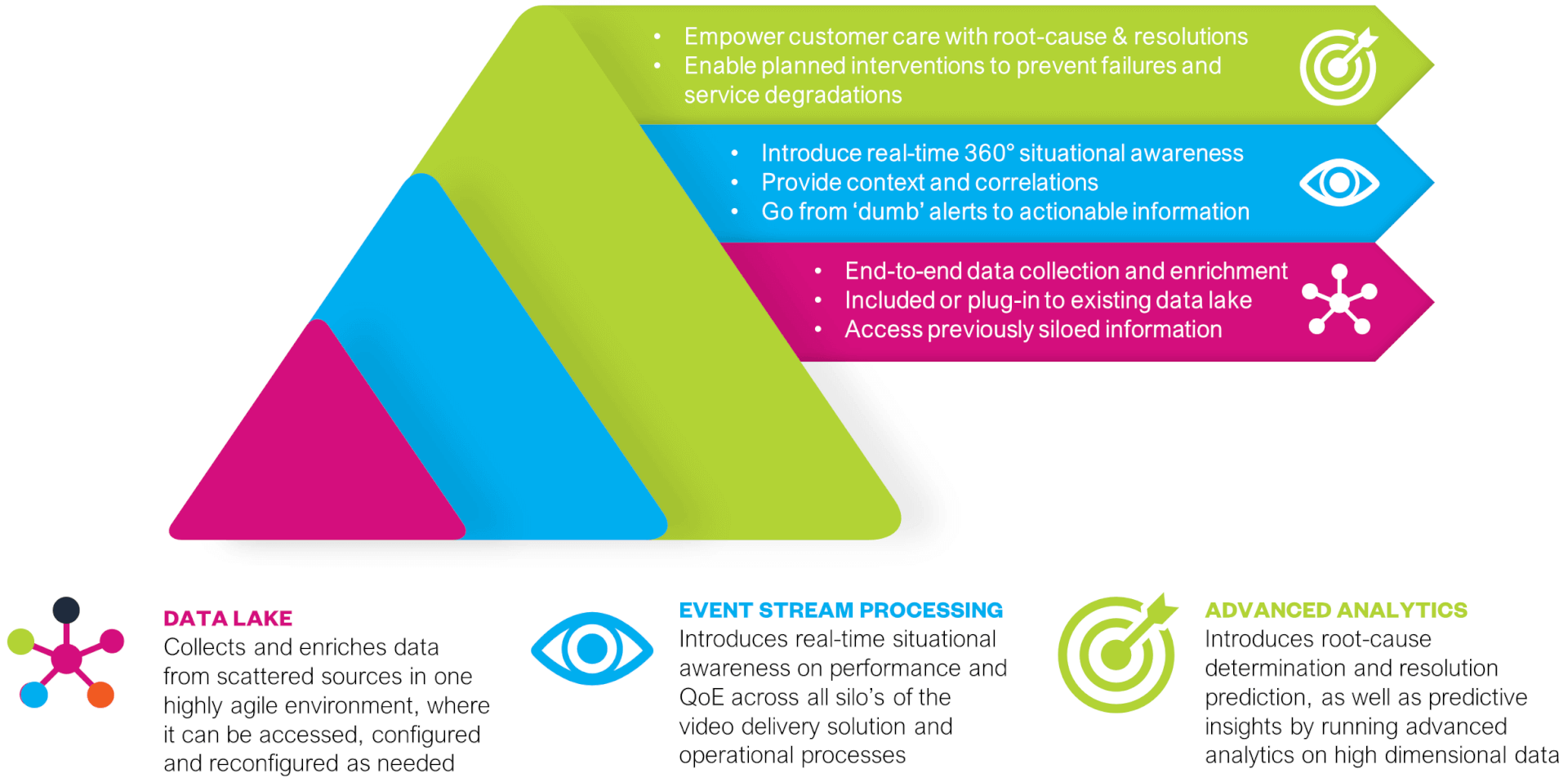 Divitel's Operational Intelligence Platform for Video and TV combines three complementary parts:
Data Lake:
Collects and enriches data from siloed sources in one highly agile environment, where it can be accessed, configured and reconfigured as needed. Can either be custom built to fit your requirements, make use of a OTC alternative or plug in to your existing data lake or -warehouse;
Event Stream Processing:
Introduces real-time 360° situational awareness on performance and QoE across all silo's of your video delivery solution and your operational processes, informing you of service degradations and failures instantaneously. Employs specialized streaming analytics to provide context and correlation. At time of writing the only specialized event stream processing for video and TV solution that allows vendor-independent end-to-end insights;
Advanced Analytics:
Introduces root-cause determination and resolution prediction, as well as predictive insights, by running advanced analytics on high-dimensional data. Empowers customer care and operational teams with direct access to actionable data and allows planned interventions to prevent failures and service degradations.
Key Capabilities
Through advanced video operations analytics, Divitel's Operational Intelligence Platform delivers:
End-to-end Situational Awareness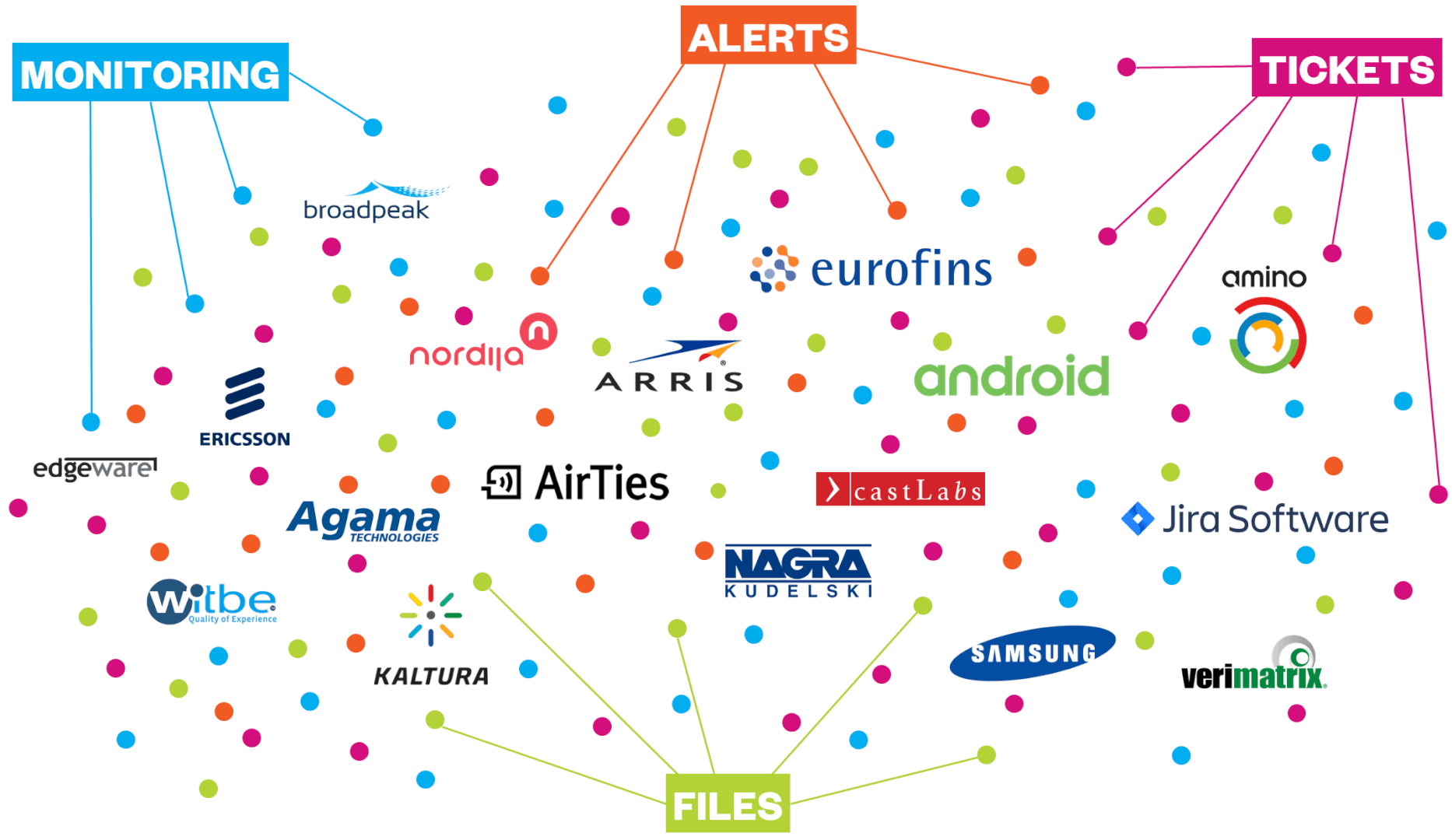 Divitel's OIP provides preconfigured-, as well as customer built adapters to collect data from multiple sources through:
RESTful APIs
Queue: JMS, Kafka, RabbitMQ, Oracle Queuing
Relational JDBC/ODBC
NoSQL, Hadoop, flat files
GCP Storage, s3 Storage
Event stream processing allows Divitel's Operational Intelligence Platform for Video businesses to provide you with a real time view of KPIs and areas in need of attention across your entire video delivery ecosystem. This encompasses everything from ingestion all the way up to the end-user device or application used to access your service, regardless of technology and organizational silos, allowing for timely and effective responses, mitigating or minimizing end-user impact and maximizing performance.
Actionable Information
Divitel's Operational Intelligence Platform for Pay-TV Operators addresses alert fatigue by presenting alerts and notifications related to your entire video delivery system through a single unified interface. This eliminates the need to continuously access disparate apps or consoles, while enriching big data with context and remediation options, ensuring timely, effective responses. Actionable information reduces operational friction, improving the friction-to-work ratio and increasing the amount of meaningful, strategic work your operational teams can get done.
Predictive Insight
Regression analysis and other forms of advanced operational analytics sift through large amounts of high dimensional data to find patterns and correlations, which will take your existing preventive maintenance systems to a new level. Increasingly, your OIP will be able to predict failures or service degradations and allow planned interventions to reduce downtime and operating cost, while improving the quality of experience for your end-user.
Customer Care Automation
End-to-end situational awareness and actionable information are employed to improve customer care efficiencies while improving end-user satisfaction. Whenever a customer reports an issue, your customer care reps are to rapidly identify root-causes and receive prescriptive resolutions, ensuring clear and consistent answers. Additionally, customers can be empowered to resolve an increasing number of customer care issues themselves, by integrating with an already present, OTC or custom-developed NPL-powered chat interface. When the Operational Intelligence Platform isn't able to provide the required information, a customer care rep can seamlessly step into the conversation to assist your customer.
Artificial Intelligence and Advanced Analytics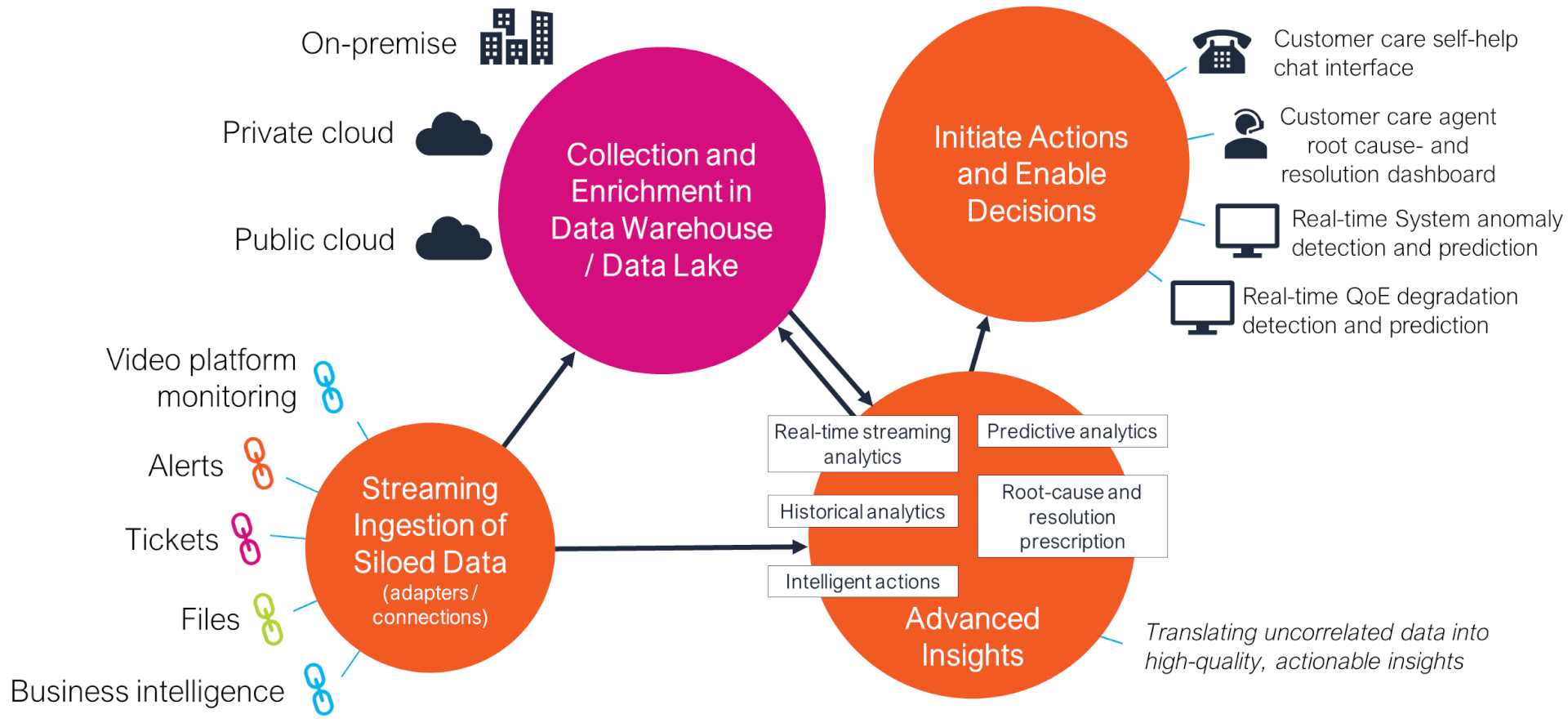 Every organization – and most video delivery platforms – are unique. Unique combinations of technology, processes and people that require a unique operational intelligence solution if your aim is to maximize the resulting business benefits. For each Divitel OIP deployment, the combination of artificial intelligence models is specific tailored to the desired use-cases and the technology present in your video delivery ecosystem. This includes deep neural nets, regression analysis, semantic clustering, sequence modelling, word2vec, NLP based approaches and – where possible – technology already in use within your organization, like a customer-facing NLP-powered chat interface.
The Economics of Divitel's Operational Intelligence Platform for Video and TV
Divitel's Operational Intelligence Platform for Video and TV increases speed and quality of your TV and video operations. Deployments are custom-built to further your objectives, but generally speaking business benefits fall along two categories:
1. Introducing operational efficiencies
Reduced time spent per ticket, thanks to customer care reps empowered with effective root-cause and resolution prescriptions;
Reduced amount of first-line support calls as customers are able to increasingly resolve issues through self-care interfaces;
Higher output from operational teams as time spent locating, gathering and interpreting data from different sources in your video delivery solution is greatly reduced;
Eliminate waste resulting from uninformed decisions and unintended consequences.
2. Increasing retention and customer satisfaction
Increased customer satisfaction as customer care interactions lead to fast, consistent and effective answers;
Better quality of experience as preventive maintenance prevents service degradations and anomalies – and the resulting end-user impact – from taking place.
Divitel's Operational Intelligence Platform for Video and TV is more than a tool, but comes with a comprehensive service aimed at maximizing the benefits it brings your organization:
Divitel's Video and TV OIP Service
Quarterly business reviews inform continuous development of your OIP deployment, ensuring its alignment with your objectives;
Continuous development on input adapters and integrations to safeguard the integrity of the data entering your Operational Intelligence environment;
Continuous evolution of dashboards, alerts and other operational integrations to ensure maximization of business benefits and operational efficiencies.
Pricing
Divitel's Operational Intelligence Platform for Video and TV is not a one-size-fits-all solution. Your service, video delivery platform and organization form a unique combination that will benefit greatly from an operational intelligence solution that embraces this reality and evolves to fit your specific requirements. The unique configurations in which Divitel's OIP solution can be deployed mean that pricing is always customized, but will generally feature a set-up or integration fee plus a licensing model based on the actual benefits you experience.
More information on Operational Intelligence for Video and TV
Want to discuss how Divitel's Operational Intelligence Platform can introduce operational efficiencies and increase customer satisfaction? Send an email to marketing@divitel.com or fill out the form on this page. We'll get back to you within 24 hours to provide you with additional information or will happily schedule a call to discuss your specific challenges.
---
---
Need more info?
Leave your details below and we'll get back to you within 24 hours
---