Every year, Het Financieele Dagblad – the country's main business newspaper – and Company.info award The Netherlands' fastest growing companies with the prestigious FD Gazelle Award. An award that rewards revenue growth above anything else. We're proud to announce that in 2017, the year of our 20th anniversary, Divitel has won its 5th consecutive FD Gazelle Award.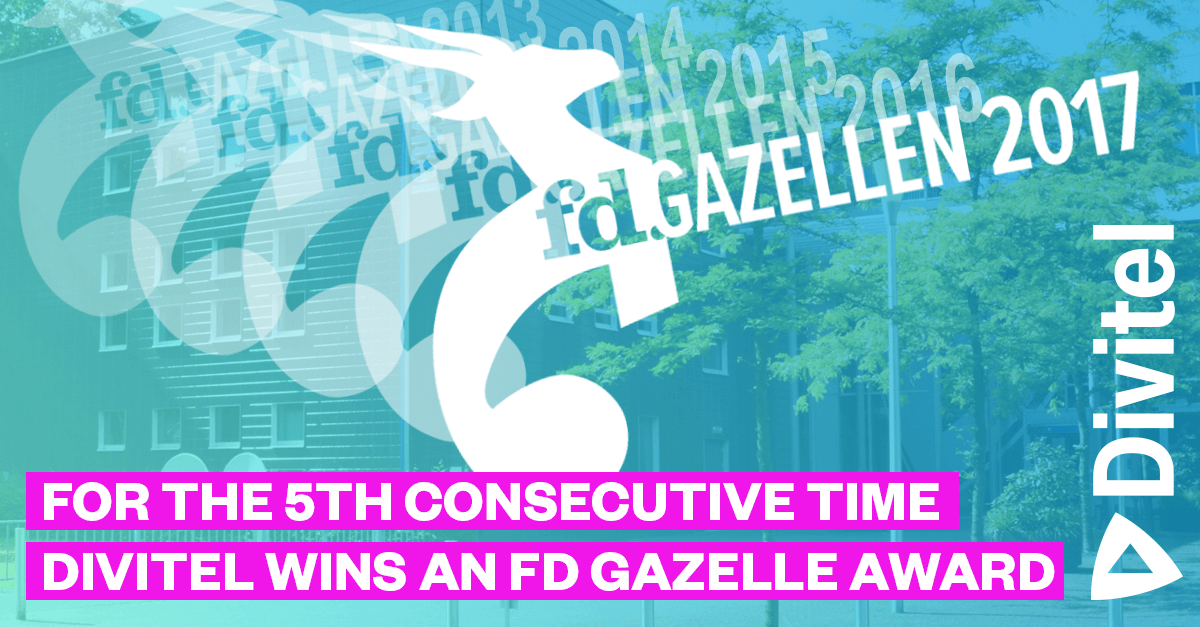 In a first response, Divitel CFO Bert Kist had the following to say: "Most of all, I'm proud of our 5th Gazelle because it illustrates our passion and drive for growth. Not abstract, undefined growth in the far future, but concrete results that add to our bottom line as a company today and tomorrow. It's also a clear sign that our expanding client-base around the globe sees and acknowledges the added value Divitel provides,". CEO Hans Kornmann added: "Winning 5 of these awards in a row isn't a coincidence. As a company we strive to grow and evolve as our industry evolves, and that has obviously paid some dividends. I look forward to continue providing our clients in the TV and video industry with ever increasing value through innovations like our DOC, our Digital Transformation Consultancy group and our new automated TV and Video Application Testlab. Every one of these innovations allows us to increase our client's end-user retention by providing world-class OTT and IPTV operations. We're going to continue improving our client's ability to survive and thrive in an industry that's under constant pressure to move quickly. Let's get 10 of these in a row".
This FD Gazelle makes the second Dutch industry acknowledgment for Divitel this year, in addition to placing among the country's 40 most innovative businesses in the MKB Innovatie Top 100.
Want to see how we're fueling Divitel's growth in person? Join us on November 2nd for the opening of our Automated TV and Video Application Lifecycle Testlab and join us for speakers, a roundtable and some networking over drinks and dinner. Click here to register today or mail marketing@divitel.com for more info.