Netflix is here to stay. Actually, it would be more accurate to state that SVOD (subscription Video on Demand) services like Netflix, Amazon Prime and iFlix are here to stay. Fighting these services is like Don Quichot fighting windmills: Ultimately pointless, as they are obviously meeting a consumer need. By embracing SVOD services, Operators can actually leverage them to strengthen their customer relationships and stem subscriber losses. How and why? We'll explain.
The percentage of households that subscribe to SVOD services is high and will only grow further. Most of these households also have a traditional TV service and most of video content is still consumed on a TV set. By leveraging their position on HDMI 1, operators that integrate third party SVOD services into their set-top box middleware, can secure their position as 'gatekeeper' of most of the household's video consumption, strengthening their customer relations, retention and – at the end of the day – LTV (customer lifetime value).
---
The meteoric rise of SVOD
According to the US-based Leichtman Research Group, in 2017 almost two-thirds of US households have one or more SVOD subscriptions, up from 47% in 2014 and less than 35% in 2013, which means adoption has more than doubled in less than 3 years. This doesn't even take into account the massive adoption of free VOD services like Google's YouTube and its soon-to-be-launched competitor Facebook TV. The vast majority of countries around the world are showing similar increases in SVOD households, with the number of connected households in Western Europe expected to reach close to 40 million by year's end, according to a recent report by Digital TV Research.
---
Subscribing to SVOD ≠ Cord-Cutting
The rise in SVOD subscribers doesn't necessarily spell doom and gloom for traditional TV Operators, as the aforementioned Leightman Research report shows. In the US, SVOD adoption among traditional TV subscribers is just marginally lower (62%) than the average for the entire country (64%), which means that the presence (or lack of) a SVOD subscription doesn't actually have that big of an influence on the likelihood of cord-cutting. The correlation between SVOD subscriptions and cord-cutting is actually even less strong in most European countries, where completely losing your traditional TV subscription is still a rare occurrence.
Your Pay TV subscribers have a SVOD subscription, or will have one soon
All of this means that a good chunk of your subscribers currently have a SVOD subscription and this percentage will only increase in the coming years. The question is: What are you doing about it? First of all, it's good to know why your customers are flocking towards these SVOD services.
---
Why do consumer subscribe to SVOD services?
Research by Cowen and Company, published on eMarketer, details the reason respondents gave for subscribing to Netflix. By far the most important of these was the convenience factor of on-demand streaming, but the full list is as follows: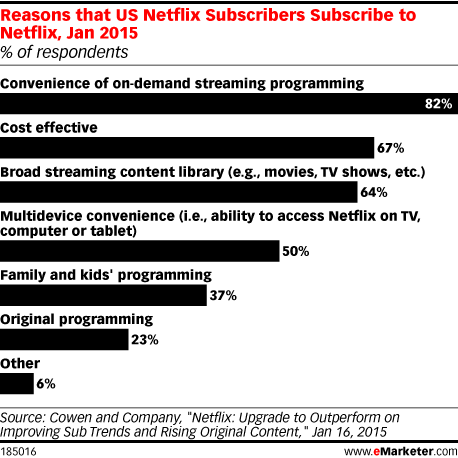 If we take Netflix as being the archetype SVOD service, it's safe to assume that the reasons for subscribing to competing services are mostly comparable. Even though an operator can 'compete' with SVOD services on some of these points, economies of scale make it impossible for a single operator to ever offer a multiscreen VOD solution with a comparable catalogue size for a price even remotely as low as that of Netflix or Amazon.
---
If you can't beat them, embrace them
Your TV service subscribers will use Netflix, Hulu, iFlix, Amazon or one of the other (niche) SVOD services out there. That these new viewing behaviors are cutting into time spent watching traditional (linear) TV is a fact, which you can't fight or deny. There is a silver lining though. According to a May 2017 report from Nielsen, over 92 percent of the time US adults spent watching video content took place on TV's or TV-connected devices.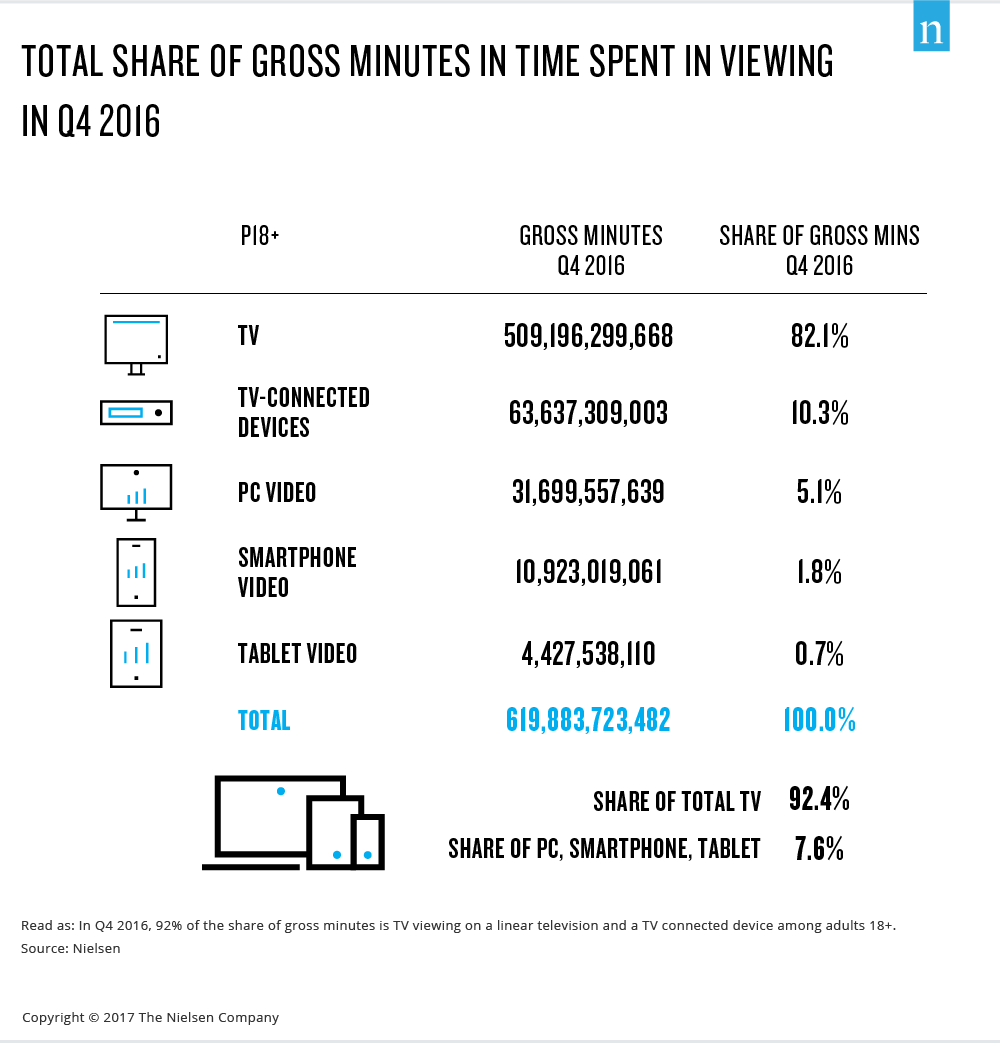 If you're a TV operator, chances are that your middleware is the very first thing that greets your customers when they power up their TV. Your set-top box is probably what they have plugged into HDMI 1, with streaming devices or game consoles filling up the rest of the ports in their television-sets.
your middleware is the very first thing that greets your customers when they power up their TV
Now consider what will happen if an end-user regularly (or even permanently) switches to another HDMI port to access their SVOD services:
You greatly decrease the end-user's exposure to your service, decreasing the connection they feel to you and your brand;
You lose the possibility to community with your user through (what is probably) the most prominent piece of technology in their livingroom;
In the subscriber's perception, your value beyond being the 'pipe' through which Netflix delivers its content is diminished;
The risk of churn increases, decreasing your LTV and revenue.
---
Adding third-party SVOD services to your STB middleware
Integrate popular third party SVOD services into your middleware. In the US, Charter Communications Inc (CHTR) is expected to join a dozen or so pay TV operators that already make Netflix available through their set-top boxes. The model was actually pioneered in Europe, where Altice NV (ATCA) in France, Ziggo and KPN in The Netherlands and dozens of others scattered across the continent offer their end-users the same functionality.
In some cases this will require an experienced system integrator for video delivery (like Divitel) to assist, in some cases your middleware provider will natively support certain SVOD services and – if your set-top boxes are running on Android TV – it'll simply be there already.
The upside is clear: Whenever someone access their Netflix – or other SVOD – service on their television set, you'll be their point of access. You'll have the opportunity to tease them into other services or linear broadcasts, which is much more likely to succeed if your video delivery solution features robust content recommendation. Even if you don't manage to pull them into other, non-SVOD content, you'll simply be there. You're the host that kicks off every television-viewing experience and become (or remain) such an integral part of their livingroom video-consumption experience, that the chances of churn are greatly reduced.
Want to know more about the possibilities of adding third-party (S)VOD services to your TV service? Drop us an email at marketing@divitel.com, fill out the form on this page or reach out to your Divitel contact.