Watching your favorite TV show and movies wherever and whenever you want, is easier than ever. New advanced technologies provide consumers with different viewing options. Big home entertainment devices like TV and mobile devices are converging, allowing for the emergence of TV-like services on mobile. The digital transformation that has disrupted so many industries before, now hits the TV and video industry in full force and in forms we couldn't have imagined a few decades ago.
---
Embracing new technology
As indicated in our previous article, traditional television is still far from being dead. However, consumer expectations and experiences are changing rapidly and continue to change even faster. New viewer behaviors have introduced new challenges to traditional pay TV operators, who are faced with an existential choice: Adapt or Die. By embracing new cloud- and mobile technologies, as well as moving towards IP and software-based systems, these challenges can be countered. Among other things, this enables a faster deployment of features and functionality, leading to a better user experience for consumers. Software based systems also generally require less up-front investment, instead depending on an agile service organization tasked with designing, developing, maintaining and supporting TV platforms. Even though these systems don't necessarily invoke significant lowering of TCO's (total cost of ownership), they can generate new business value, additional revenue streams, faster time to market of new concepts and more agility to adapt to changing consumer needs.
---
Changing viewer's behavior
The number of smart devices is growing and in polls, consumers consistently express a preference for "self-selected (online streaming) services" over "bundled services". Even though the reality of TV and video revenues today doesn't yet show this preference, it's a matter of time before VOD and other self-selected services outpace traditional TV subscription revenues. More and more consumers will subscribe to cheaper, smaller and self-selected services. They are likely to consume these services on a wide range of different devices, with device fragmentation for Android devices alone numbering in the tens of thousands.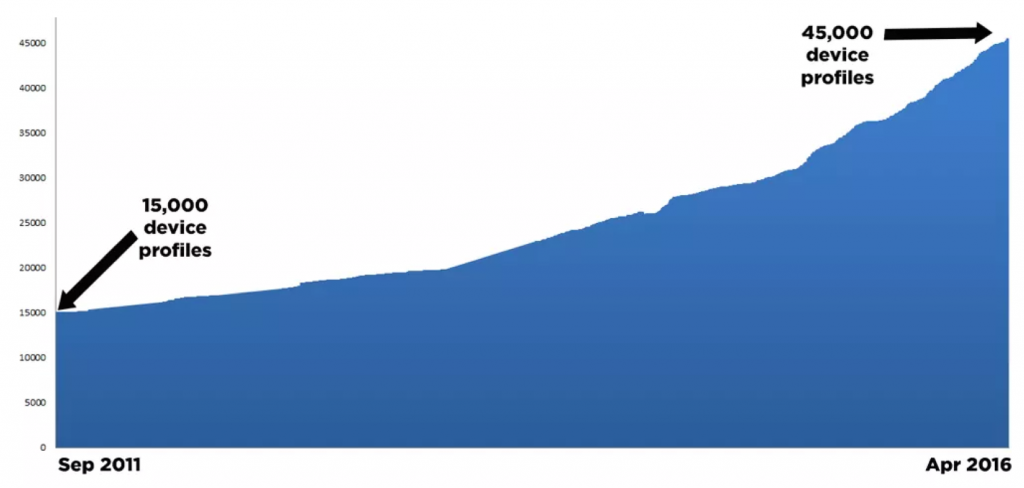 The emergence of new consumer groups (millennials or Generation Z) also drives the need for diversification of services. VOD is on the rise, but there does seem to be a need for live TV, primarily sports and other live events. Even though a (small but growing) number of consumers are 'cutting the cord' and are cancelling their traditional cable TV subscriptions, they often cannot live by Netflix alone. The emergence of hybrid services that combine OTT VOD and live TV is a sign that there are TV operators out there that recognize this development.
---
Adjusting business models
Change is not an option, it's a necessity. A company that exemplifies digital transformation, is Netflix: The poster-child for worldwide SVOD growth. Before the company introduced online streaming in 2007, Netflix's business model centered around DVD rental by mail. Customers ordered these DVD's through the internet, essentially killing the traditional brick and mortar home video rental business. Further transformation to a fully digital service, combining data-driven content creation and -acquisition, as well as their recommendation engine, made Netflix the TV industry juggernaut we now know.
Additional contenders went after a market, Netflix –almost singlehandedly– created, with services like Amazon Prime and Hulu joining the race. Next to its SVOD Prime service, Amazon also offers a service providing TVOD which allows customers to rent or buy digital TV shows and films individually. Through other services, TVOD is also available via some set-top boxes. There are even some ideas for the future to offer streaming movies at home on the day of their theatrical release, where pricing will depend on how long the movie is running in theaters.
Hulu is turning into a pioneer in its own right, by betting heavily on a hybrid service combining SVOD and Live TV. Although pay TV operators all benefit from hybrid services, the main winner will be the consumer who will be provided with high quality TV and on-demand services irrespective of location.
---
How Divitel can help
As technology is changing the perceived value of TV and streaming video, TV operators face the challenge to create real value. How can operators successfully adapt to the possibilities the new digital frontier provides? As one of the world's premier independent system integrators, Divitel Consultancy guides clients through the design and development of profitable business models and sustainable competitive advantages.