Join a unique TV and Video event Keynotes, Roundtable, Networking – November 2nd, Divitel HQ
Seats are filling up quickly, register for a free ticket before the clock hits zero:
We know there are+
+
countless events, seminars and conferences filled with fluff, marketing buzz and rehashed opinions vying for your attention. How many times do you need someone to tell you that "we're at peak Television" or "traditional cable TV is dying"? That's why we're here.
On November 2nd, together, we're going to cut through the bull, offering you fresh and actionable insights, fueled by open discussions and concrete solutions, presented by – and to – your peers. How? Through 2 exciting keynotes and a panel discussion, followed by some rest and relaxation, as we have drinks and dinner to celebrate Divitel's 20th anniversary.
Also, it's free. Will we see you in Apeldoorn?
Unable to make it to Divitel HQ on November 2nd? We'll share VOD files for all the presentations and the roundtable shortly after the event concludes. Keep an eye on our LinkedIN page, Twitter feed or simply email marketing@divitel.com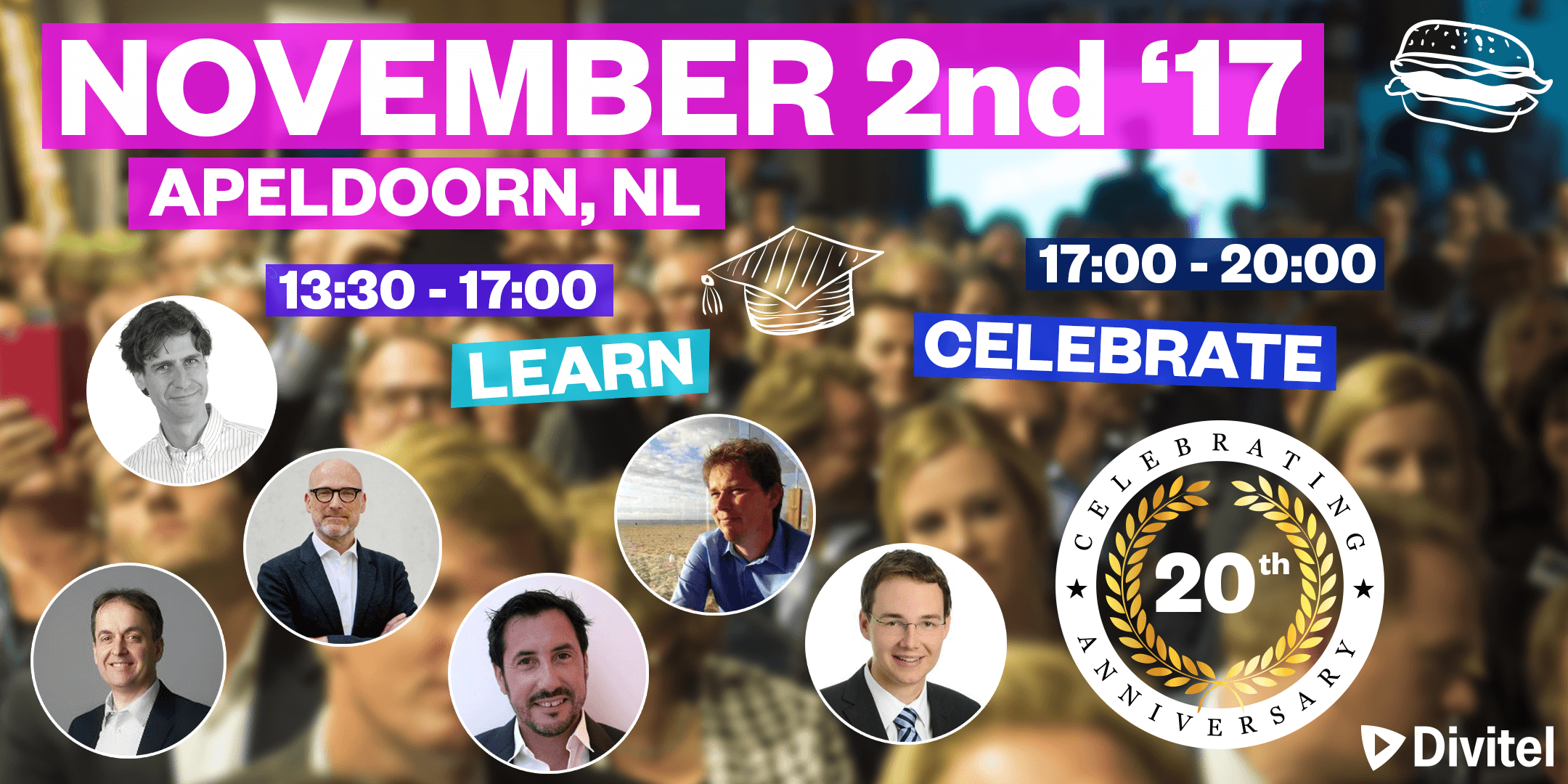 SCHEDULE
LEARN
How changing consumer behaviors and rapid technological innovation shape the evolution of your TV and video service
13:30: Opening words – Hans Kornmann (Divitel)
13:40: Keynote on the technological disruption challenging old business models and practices, by Randall van Poelvoorde (RobotXperience, Nyenrode Business University)
14:10: Panel discussion on the changes in technology, media and consumer behaviors driving the need for hyper-compressed development cycles in TV and video: Can you keep up? Should you even try? How can machine learning and robotization help? Is the goal of a nonstop flow of updates and releases, with zero impact for the end-user, attainable? – Moderated by Dr. Florian Krausbeck (ambrite AG), participants: Tuan Huynh (Chief Innovation Officer, Divitel), Jon Howes (Edgeware), Elmar Möller (Media Broadcast), Dr. Gabor Molnar (Video Technology and Science Evangelist, Divitel), Kumar Subramanian (MediaMelon), Hansjörg Pätz (HSB-Media) and other participants TBA.
15:00: Break, featuring drinks, fingerfood and optional tours of Europe's first automated TV and video application lifecycle testlab, our Divitel Operations Center and the rest of Divitel HQ
The technology powering Europe's first Automated TV and Video Application Lifecycle Testlab
15:45: Keynote on the technology behind test automation for TV and Video applications, application lifecycle management and machine learning, followed by Q&A with the audience – Wouter Slot (Divitel), Anders Svensson (Agama), Eric Le Trehour (Witbe)
16:45: Closing words – Hans Kornmann (Divitel)
CELEBRATE
Following the closing words by Divitel CEO and founder Hans Kornmann, stick around for drinks, dinner and finger food to celebrate 2 decades of Divitel. Join partners, acquaintances and friends for an evening where we look back at the 20 years since our company's founding, but mostly just have some good food and share laughs
SPEAKERS
Stay tuned as more speakers and participants will be announced in the days leading up to the event.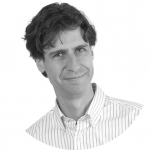 Randall van Poelvoorde
Owner and CEO, RobotXperience – Guest Lecturer at Nyenrode Business University – TedX speaker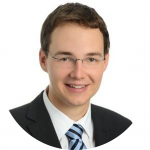 Dr. Florian Krausbeck
Partner and Head of Datas Science, ambrite AG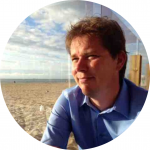 Wouter Slot
COO, Divitel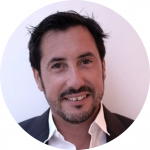 Eric le Trehour
Channels and Alliances Director, Witbe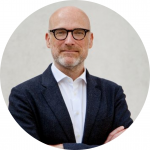 Jon Howes
Alliance, Channel & Business Development Leader, Edgeware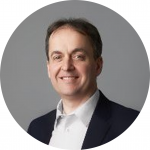 Dr. Gabor Molnar
Evangelist, Divitel Video technology and science