Artificial Intelligence is significantly impacting most industries and ours is no exception. Read up on the 5 Ways AI is Changing Video and Television Today.
But first: Learn about how Divitel is employing AI!
Divitel's Operational Intelligence Platform for Video and TV uses predictive analytics, root-cause detection, case-based reasoning and other event stream processing techniques to provide you with real-time 360° situational awareness in your full video delivery solution and -process. Additional advanced analytics empower your operational teams with root-cause and resolution dashboards, as well as the actionable information needed to prevent issues and service degradations from occuring. Read up on our OIP for Video and TV here or send an email to marketing@divitel.com for more info
"I read a lot about AI, but when will it be relevant for my business?" – Speaking to clients in video or TV, this question pops up a lot. In most cases, the answer is "Right now".
Some companies are already leveraging AI-powered technological advantages to increase everything from infrastructure flexibility and customer retention, to monetization and market share. In this article, we'll highlight 5 ways in which Artificial Intelligence is changing video and television as we know it. At the top you'll find an executive summary in the form of a slide-deck. Please share the deck as well as the full document freely and reach out if you have any questions or comments: We're always happy to chat.
5 Ways AI is Changing Video and TV Today from Hendrik Haandrikman
AI Powered Video Compression
Netflix is no stranger to artificial intelligence, having claimed in the past that its AI-powered recommendations could be saving up to $1 Billion a year by decreasing churn. The OTT Video pioneer uses AI for more than suggesting movies and series, though. In collaboration with the University of Southern California and the University of Nantes, Netflix used AI to develop The Dynamic Optimizer.
Generally speaking, online video is compressed uniformly for a particular connection speed. This results in better compression for simple video content like cartoons, but bigger file-sizes (or a lack in quality) for videos that are more complex, like live-action dramas with tons of special effects. Netflix's Dynamic Optimizer takes the fact that less-complex video content allows for higher compression and uses it to decide on the amount of compression shot-by-shot. As even the most visually complex TV-shows features scenes without a ton of details, this allows greatly increased compression without a perceptible loss in quality.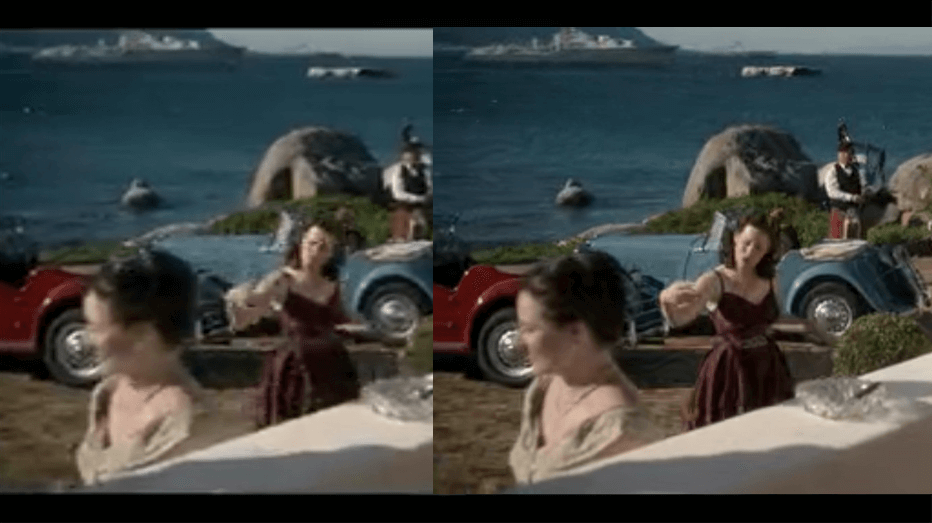 This new method of compression is made possible by an AI that detects the quality of an image. Training of the Artificial Intelligence involved showing hundreds of thousands of shots to hundreds of viewers that rated these shots on various qualities. All this data allows the AI to 'see' the best possible way to compress video on a very granular level. The result was demonstrated with the trailer for Marvel series "Iron Fist": With no perceivable loss in quality, Netflix's Dynamic Optimizer reduced a 555kbps stream to 227kbps.
Set-Top Boxes with AI Home Assistants
In February of 2017, Korean telco Korea Telecom announced that it would be deploying set-top boxes with an integrated home assistant. This IP set-top box, the GiGA Genie, comes packaged with everything you'd expect from a high-end STB in 2017, like 4K UHD, VoD and more. The integrated AI assistant might be a world's first, though.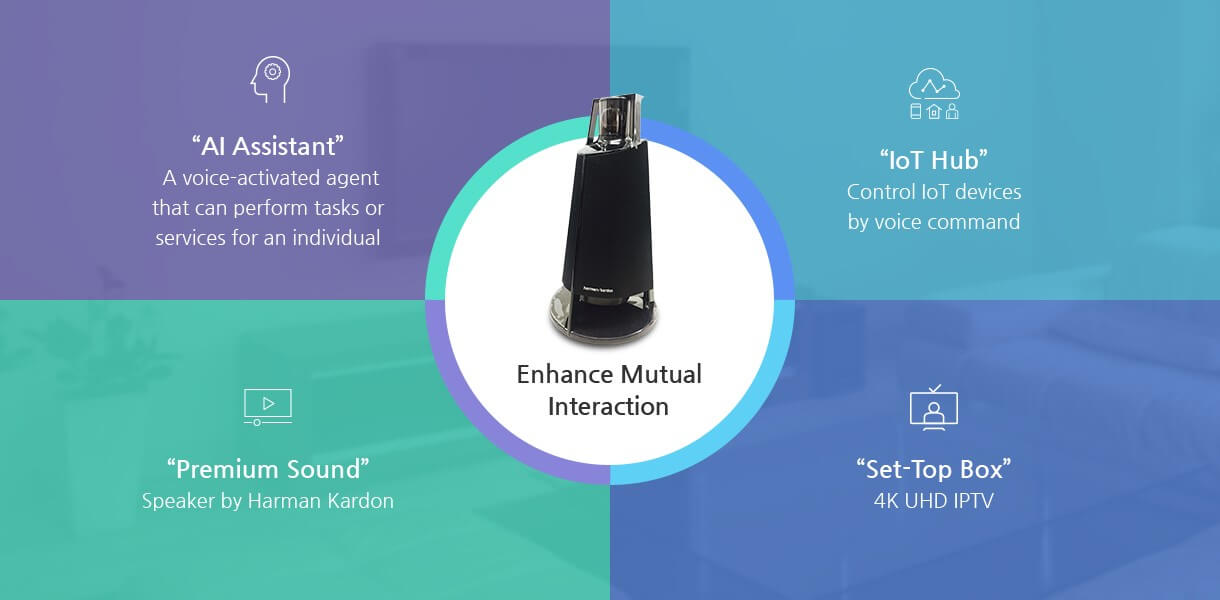 According to producer Kaonmedia, the assistant offers 95% accuracy in translating voice comments to actual actions that go beyond simply controlling the video content on your TV. Features include schedule management, information on weather and traffic, as well as full control of IoT powered devices throughout the home.
The natural language voice interface allows KT customers to communicate with their television in a way popularized by other AI assistant services like Amazon's Echo or Google Home.
Elastic Video Delivery Networks with Predictive AI
Video delivery networks are moving to the cloud. Companies like Microsoft, Amazon and Google are all – in one form or another – trying to sell you on complete cloud-based video delivery pipelines, but even most sceptics already have part of their pipeline in the cloud. The reasoning is simple: It's usually (much) more elastic and offers scalability that simply isn't economically feasible when you're working with physical hardware.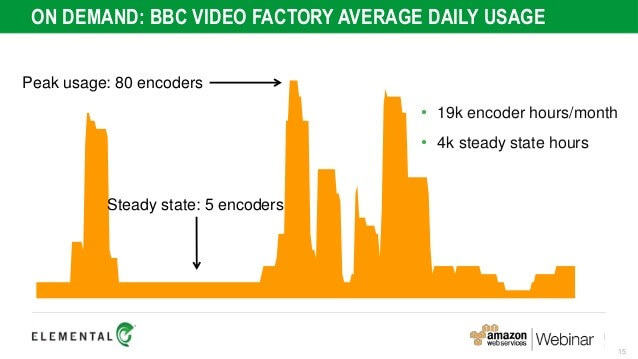 This scalability is where AI is starting to play a role. Even though most cloud-services offer an impressive amount of elasticity (the ability to increase or decrease available resources as needed), there's often still a small delay as resources are increased. Today, AI is being used to predict these increases in resource requirements, to reduce delays to zero. Great examples of this principle in action are live sports events or launches of new "binge-watchable" TV series: AI is learning to predict the resulting increased strain on a video delivery network and can autonomically scale up resources available to all – or part – of the video delivery pipeline.
AI-enhanced Programmatic TV Ad Buys
Even though it might seem the world of advertising is going full-on digital, TV is still big. $84 billion-big. This is the amount projected to be spent by advertisers on television in 2018 in the US alone. More and more, these dollars are being spent through a technology-automated and data-driven method often referred to as programmatic TV.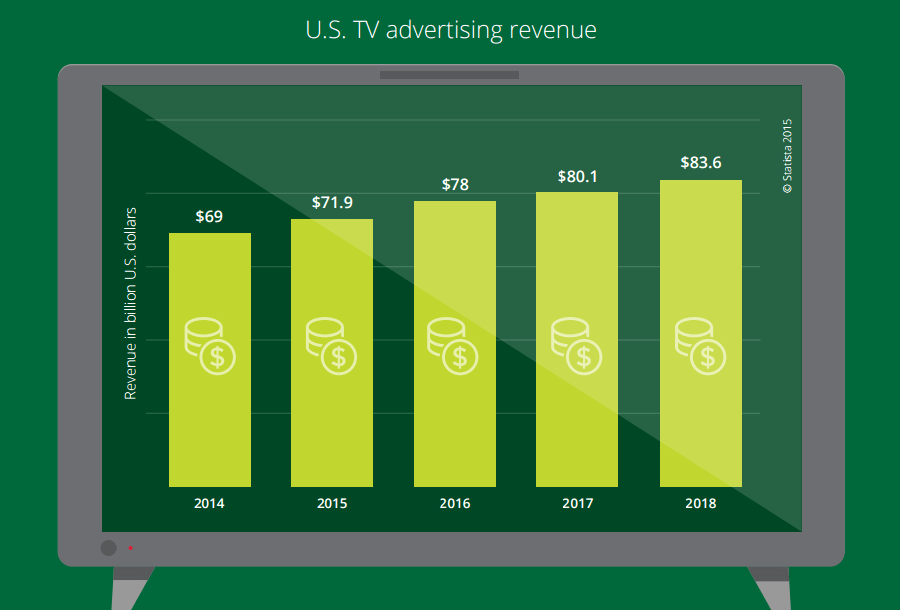 Besides allowing for automated bid-based buying and selling of ads against TV content, programmatic TV advertisement allows for the type of targeting that's been pushing up online video ad CPM's for years. Finally, TV advertisers are "freed from the shackles of gross rating points" (GRPs) and given the opportunity to show their ads to the right person, at the right time. This allows for the same marketing effect with far fewer wasted views, freeing up those views for sale by publishers. The result is a higher return on marketing spend for the advertisers, as well as a higher yield per view for the ad-seller.
As we speak, AI is further increasing the efficiency of this process by leveraging learnings from the digital advertisement space. Algorithms use feedback from assorted customer-tracking efforts to optimize TV ads in real time, increasing the spend on predicted high-value target audiences as well as decreasing focus on audiences likely to lack the required performance.
Next-Gen TV and VOD Recommendation through AI
In what's probably the most obvious usecase for AI in TV and video, services like Netflix have been using artificial intelligence to power content-recommendation for years. The reasoning is pure economics: It takes consumers no more than 60 to 90 seconds to move onto the next service if they don't find something to watch.
In a 2015 paper, then-Netflix VP Carlos Gomez Uribe and still-Netflix CPO Neil Hunt, discuss many of the intricacies of the Netflix recommender system. Especially eye-opening is the statement that the recommendation system used is responsible for roughly 80% of hours streamed on Netflix. The other 20%, content found through search, isn't exempt of AI-influence, though: A different set of algorithms personalize search results per user, ensuring the maximum amount of engagement possible.
Another reasoning for the heavy reliance on recommendation given in the report, might actually be the most relevant for other video and TV companies out there: Recommendation greatly increases the video content available to users without the necessity for massive growth in the actual catalog. This sounds a bit counter-intuitive, but luckily Carlos and Neil did the math: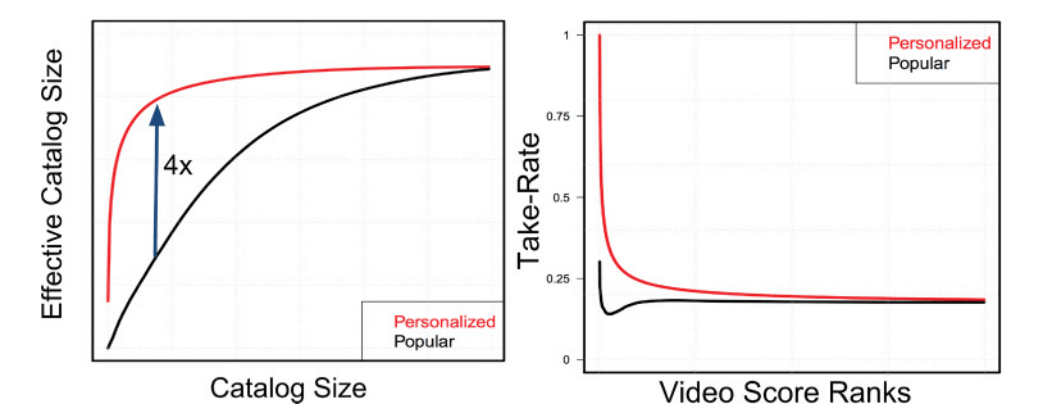 (Left) The black line is the effective catalog size (ECS) plotted as a function of the number of most popular videos considered in the catalog, ranging from 1 through N (the number of videos in the catalog) on the x-axis. The red line is the effective catalog size for the first k PVR-ranked videos for each member. At a PVR rank corresponding to the median rank across all plays, the ECS in red is roughly 4 times that in black. The values in the x and y axis are not shown for competitive reasons. For more details, see Appendix A. (Right) The take-rate from the first k ranks, as a function of the video popularity rank in black, and as a function of the PVR rank in red. The y-values were normalized through division by a constant so that the maximum value shown equaled 1. – From The Netflix Recommender System: Algorithms, Business Value and Innovation
In layman's terms, recommendation unearths video content for users that they would never discover without the help of a little artificial intelligence. This allows video and TV services to greatly increase the reach of the content they already have, without the need for acquisition of massive amounts of additional content. Users will 'feel' like the catalog is bigger than it actually is, because the services always serves them up something relevant to watch.
Divitel and AI
As one of the world's leading independent systems integrators for video delivery, Divitel is always looking to push the technological envelope for our clients. As such, we can implement AI assisted content recommendation, predictive Artificial Intelligence to improve on video delivery network elasticity and any other possible use-case you could imagine. Our aim is to leverage our knowledge on all things video to deliver solutions that fundamentally change the economics of video delivery. Want to know more? Reach out to your Divitel contact or drop us an email at marketing@divitel.com
Your Writers
Tuan Huynh
As Chief Innovation Officer for Divitel, Tuan Huynh is a true TV industry veteran. In a career that has spanned decades, he's developed a love for technology that is only surpassed by his love for video delivery. His main topics of interest within the wider video and TV ecosystem are digital transformation, video delivery economics and emerging business models. You can reach him directly by emailing tuan.huynh@divitel.com
Hendrik Haandrikman
As Divitel's main "Growth Guy", Hendrik Haandrikman is always happy to discuss the intersection of technological development and business needs. As a self-proclaimed data-geek, you won't see him happier than when he's sitting on a pile of data, looking for that tipping point that will turn a stagnant business into a high-growth superstar. You can reach him by emailing rik.haandrikman@divitel.com.