It has been a couple of days since the biggest conference in our industry, the International Broadcast Convention (IBC), closed its doors. We look back at yet another inspiring, fruitful and entertaining edition, where we broke the mould with our floor at the Elicium, our widely successful workshops and the launch of our 5th Video Delivery Landscape. Here is a short recap.
After navigating fifteen halls teeming with people getting from one meeting to the next, the tranquility of the third floor of Elicium – the towering office building right above the Rai entrance – was an oasis of calm, purposeful activity. It is here that Divitel hosted its complementary workshops and countless stimulating, inspiring and fruitful conversations.
IBC 2018 Workshops
Practical AI for TV and video today
Would you like to know more about artificial intelligence (AI) and its opportunities for your business? At IBC we hosted closed-door, one-hour AI workshops, in which Divitel and NVIDIA experts provided you with actionable insights related to the AI-revolution that is shaking our industry to its core.
How real-time OIP can improve the economics of your TV or video business
Together with Ambrite, we hosted our AI-powered Operational Intelligence Platform workshops, in which we discussed how our real-time event stream processing (ESP) insights solution provides valuable insight into your video delivery chain performance and results in increased quality, a better customer experience and a higher NPS score.
Assuring video delivery systems on cable; Now and in the future
Cable operators are facing a gigantic challenge, from competitive pressures, rapidly accelerating consumer and business bandwidth demands. With a rapid shift from DVB broadcast to TCP/IP individual service delivery and a continuous explosive growth of IP traffic in general, the cable network's technology needs to change. Transformation of this kind can come at high cost creating significant network interruption.
Together with Arris, we hosted personalized, closed-door IBC workshops that discuss the need for these changes, possible solutions or gradual implementation scenarios and criteria to select the most appropriate one. Also, we gave insight into operational consequences, like maintenance and the need for specific technical staffing.
TV Strategy Navigator sessions
In each of these sessions, Divitel's Chief Innovation Officer Tuan Huynh discussed how to balance between the rising costs of an 'fan-centric' strategy and the return-on-investment promise based on direct and indirect revenues. The Navigator allows you to unearth, align and document strategic priorities related to your video or TV business, resulting in a model that will help you become a (more) 'fan-centric' business. The workshop is aimed primarily at pay TV operators, service providers, content producers & content owners.
Divitel's Gabor Molnar on stage at the SCTE
Our Evangelist of Video Technology & Science Gabor Molnar took the stage at SCTE (Society for Broadband Professionals) to share his vision on improving the economics of immersive technologies in a cloud-based, dockerised application lifecycle laboratory.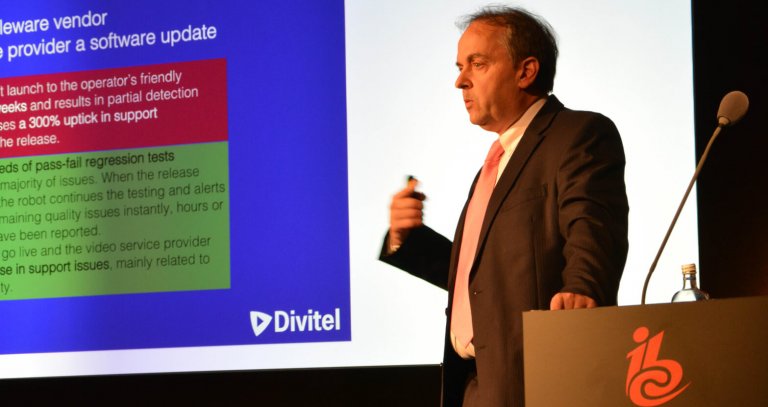 Virtual Reality (VR) and Augmented Reality (AR) enable improved digital user experience, but application developers are struggling with end-to-end service quality testing due to the continuous software changes in multi-vendor service delivery platforms and the wide range of relevant subjective and objective measures. Gabor's presentation shed light on how recent advances in Artificial Intelligence (AI), cloud-technology and dockerisation can be employed to implement Quality of Experience (QoE) testing of VR and AR applications – and the research and development work that Divitel has done to accelerate and automate end-to-end ecosystem quality testing, benefiting VR and AR developers as well as those active in more traditional TV and video environments.

Request slides

Radio interview with Divitel's Tuan Huyhn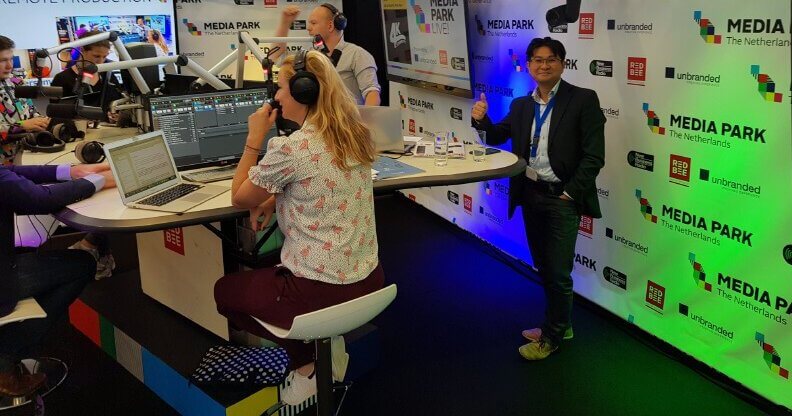 Our Chief innovation Officer Tuan Huynh gave an interview to Media Park Live in which he explains what is happening in the world of video delivery technology and how we can help organisations throughout the value chain to improve their customers' video experience.

Listen now

The newest version of the Video Delivery Landscape
At IBC2018 we presented the fifth – and 2018's final – edition of the Video Delivery Landscape. It joins a line of posters that have been downloaded over 10.000 times and can be found on office walls across the globe. We have updated this overview with new companies, brands and products in different categories within video delivery tech. You will find the world's most important DRM-suppliers, video players, video processors and more.